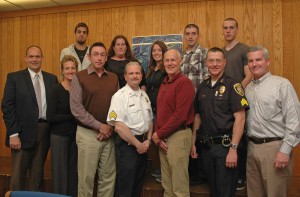 Law enforcement officials from throughout the region provided internship opportunities for a number of MWCC's Criminal Justice majors during the spring semester. To thank them for providing real-life, career experiences for the students, department chair Reed Hillman presented certificates of appreciation during a recent gathering on the Gardner campus.
The interns completed a minimum of 120 hours over the 15-week semester at several sites including the Westminster, Fitchburg and Shirley police departments, the Leominster District Court Probation Department, and the Worcester County Sheriff's Office.
"The internships are a great way for students to gain experience while making connections that can lead to jobs," said Hillman, former commander of the Massachusetts State Police.
Pictured: Area law enforcement officials were recently recognized for providing internship opportunities to Criminal Justice students during the spring semester. Pictured, front row: Chief Salvatore Albert, Westminster Police Department, alumnus and advisory board member; Elizabeth Daigneault, Chief Probation Officer, Leominster Court; Mark Leary, Worcester County Sheriff's Office; Sgt. Glenn Fossa, Fitchburg Police Department; Professor Reed Hillman; Sgt. Peter Violette, Shirley Police Department and an MWCC alumnus; Matt Beaudet, Worcester County Sheriff's Office; Back row: MWCC Criminal Justice students Corey Cavaioli, Pamela Wood, Miranda Hamel, Chad Stateler and Derek Gyles.