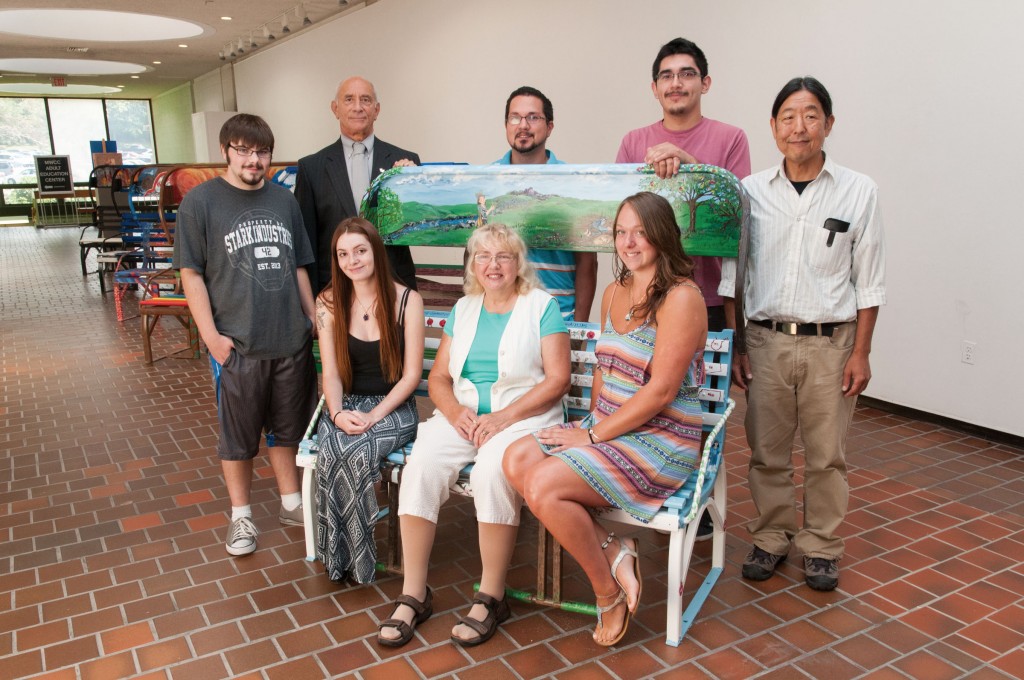 "Take a Seat in Johnny Appleseed Country" is a community project aimed at increasing foot traffic in the cities and towns that make up North Central Massachusetts. The Johnny Appleseed Trail Association met with the Wachusett Mountain Ski Resort and rather than throw away inoperative ski lift chairs, both organizations decided to use them as a promotional opportunity.
Six chairs were delivered to Montachusett Regional Technical School where they were refurbished and converted by students into functional benches. Then, they were delivered to Mount Wachusett Community College this summer, where they were painted by art students. MWCC Professor Tom Matsuda, chair of the art department, said he the students were excited to participate.  The chairs will be distributed in the region this fall.
Corinne Goodrich, a student involved with the project, said painting the bench was a challenge she enjoyed. "I think the project is honoring someone who was a remarkable person."
Art student Tom Hill said he is new to creating art that will be seen by the public. "It's been pretty fun. I don't think I've ever done a project quite like this." Student Ben Mikles said he likes any reason to have to create art. Any art created for the public is nice because it gets the artist's name out in the open, he said.
"People like public art and this is really functional public art that can be sat on," said Matt Myers, marketing and communications specialist for the Johnny Appleseed Trail Association. "As art students, one of the best things to do is get your work out there," he said. "All the students will have there names on the back of the chairs that they designed."
Myers wanted the students to have their own individual style on the chairs, so he left the theme open for interpretation.
"The only guidelines given to the artists was to make it something relatable to North Central Massachusetts, whether that means a Johnny Appleseed themed bench or one that serves to represent the four seasons that are such a major part of life in the northeast," Myers said. "I wanted to keep a general theme, that way the artists imagination would be given an opening to really express who they are and their connection to the area."
From Wachusett Mountain, which has been a staple in the area for over 50 years, to students at Monty Tech and MWCC, the  Take a Seat in Johnny Appleseed Country project incorporates layers of community involvement to create "something special," Myers said.
– Alexander P. Moore