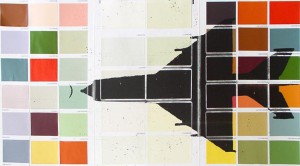 Two exhibits – "American Road," a collection of prints, paintings and mixed media by Leominster artist Rob Roy and the works of four ceramists from Studio Four Potters, a cooperative studio and gallery in Gardner – are on display through March 14 in the East Wing Gallery at Mount Wachusett Community College.
An artists' reception will take place Sunday, March 9 from 1 to 3 p.m. in the gallery. In addition, Roy will present a talk on his work on Wednesday, Feb. 19 at 12:30 p.m., also in the gallery. The events are free and open to the public.
Roy, a professor of painting, printmaking and drawing at the Montserrate College of Art since 1988, past chair of the college's painting department, and former adjunct instructor at MWCC, has artwork in many public and private collections. Several of the pieces in this exhibit are from his "Witness" series, which explores the imagery of war and American culture.
He has exhibited extensively in the U.S. and in Massachusetts at the Rose Art Museum, the DeCordova Museum, the Danforth Museum of Art, the Williams College Museum of Art, the Berkshire Museum, the Worcester Art Museum and the Fitchburg Art Museum. He earned his M.F.A. from Yale University, School of Art and Architecture, and his B.F.A. from UMass, Amherst.
In the gallery's glass cases, the pottery of John C. Bennard, Steven Landry, Fe Fandreyer and Marion Lyon are also on display.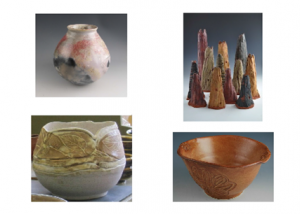 Fe and Lyon look to nature and use the potter's wheel to create unique work. Fandreyer works with beautiful, classic forms created using the potter's wheel. The work is accented with motifs of horses, flowers, or butterflies that are sculpted or stamped onto the pieces.
Lyon also works from the wheel but combines hand-building elements, carving and/or stamping into surfaces. Hosta plant leaves or ivy are used to emboss or create a relief surface on platters and plates. She is drawn to an asymmetrical edge and then, like a canvas, she decorates or narrates a tale with images of birds, flowers and nature.
Landry focuses on creating functional pieces using a range of surfaces and firing methods. The shiny mottled orange and smoky black pieces on display have been created by pit-firing work that has been burnished with a fine slip called terra sigillata. Landry's other pieces are fired with a Temmoku glaze and have been made on the potter's wheel. The symmetrical vase, with the marble-like surface, was made by wedging colored stains into a ball of clay that was then thrown on the potter's wheel.
Bennard's inventive pieces are created by pattern making slabs of clay, cutting and joining them. In his words, "the work is inspired by nature as observed on walks along the seashore of Prince Edward Island."