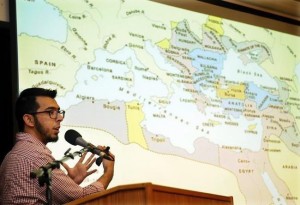 GARDNER – To resolve conflicts in the Middle East and eradicate the Islamic State in Iraq, U.S. leaders must promote democracy there, according to a panelist speaking at a forum on Islam Monday night at Mount Wachusett Community College.
MWCC and Heywood Healthcare presented the public forum, "Radical vs. Real: Islam in the Modern World," held in a packed South Café on MWCC's Gardner campus. The event, which stemmed from discussions between Heywood Healthcare President Winfield Brown, MWCC President Daniel Asquino, Heywood physician Dr. Tariq Malik and others, was held to help people understand the difference between the Muslim faith and the violent, radical organizations making global headlines.
Three panelists who are members of the Islamic Society of Greater Worcester gave an overview of Islam – the world's second largest religion – and discussed political unrest in the Islamic Middle East. The speakers, all U.S. citizens, included Dr. Saleem Khanani, a hematologist and oncologist affiliated with Heywood Healthcare and St. Vincent Cancer and Wellness Center in Worcester; Noman Khanani, teacher of Islamic studies; and Dr. Amjad Bahnassi, medical director of Behavioral Health Services in Worcester.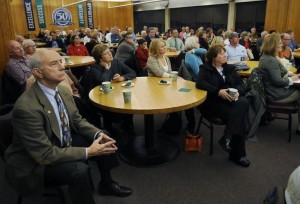 During the question and answer portion of the forum, several comments from panelists raised eyebrows from some audience members.In response to a question about how to "wipe out" ISIS and resolve conflict in the Middle East, Dr. Bahnassi, who was born in Syria where he graduated from medical school, said he does not agree with President Barack Obama's doctrine not to interfere with what is going on in Syria. Democracy must be promoted in the region, he said.
"When Muslims and Arabs argue it is not very civil," he said. "It tends to be violent. Ignorance, mistrust and the history of colonialism has left them with no base to live with each other. If you go to Worcester where I am from, there is a street for Italians, Irish, Albanians – they all live together beautifully. In Syria, 80 percent is one sect and they cannot find a way to live with each other … I wanted democracy, but all the dreams got killed, including my dream. I wanted to be part of that movement – part of democracy in my country. I want to vote."
He suggested that the Syrian government created ISIS as a diversion to democracy by freeing thousands of imprisoned extremists who created the "nucleus of ISIS." Thousands of Syrian Muslims were killed by ISIS because they wanted to force everyone to adopt their ideology, he said.
"They are not bombing terrorism. They are bombing the Syrian people," he said. "They had to create an enemy.
"Ask yourself, how many ISIS members were in Syria before 2011? There was no existence," Dr. Bahnassi said. "Where did they come from? Obama's doctrine is not to interfere – that the U.S. is not to be the police of the world. That is what happened with Hitler. First they started with socialists, then Jews … When you create a vacuum, everyone is going to jump into it. I am blaming Obama's doctrine. He should have done something. When I want to protect myself from terrorism, I need to take some protective action. If I don't act, Russians act, the Iranians act, the Chinese act. To eradicate ISIS, you need to promote democracy in the Middle East."
He said that Islam is not a "complete political system." An established democratic state must be ran by experts, not religious leaders, he said, who have the educational background and expertise.
"Yes – we want Islamic principles adopted, but we want (educated) people to do that, not religious people," he said.
Dr. Saleem Khanani and his son, Noman Khanani, said two of the basic principles of Islam are a belief in one God and justice for all.
Dr. Khanani said Muslims can live in a non-Islamic country where justice dispenses to everyone and the rights of all citizens are equally guaranteed as they are in the U.S., United Kingdom or France.
Noman Khanani said the U.S. is an example of an Islamic country because of the social justice here, and freedoms such as freedom of religion and speech. "The U.S. is more Islamic than Pakistan or Egypt," he said.
Countries that offer personal freedoms are technically Islamic states because they practice principles that are closer to Islamic principles than those who do it under the cloak of Islam, he said.
Marylou Curran, an adjunct faculty member at MWCC who teaches cultural anthropology, said she was "nervous" that Noman said the U.S. can be an Islamic country and would be concerned if students were taught that. Such comments were causing the panel to lose their audience, she said.
"America is a Christian country," Ms. Curran said from the audience.
Dr. Khanani reiterated that saying the U.S. could be an Islamic state means the U.S. political system is based on fair principles. Any religion that promotes fair principles and monotheism is "Islamic," he said.
"Judaism in its purist form is as Islamic as Islam," he said. "Islam is a social system where we practice human values. Muslim is about being a good person and how to respect others."
"We share the same values," Dr. Bahnassi added.
When an audience member asked why the U.S. should step in and why the countries weren't promoting democracy on their own, Noman Khanani said some countries are still very early in the process of changing their political systems.
"Some countries only gained independence 40 or 50 years ago," he said. "They are still dealing with the effects of colonialism and imperialism … But dropping bombs is not the best thing, either."
The panelists said when military strikes kill civilians, those who survive and have lost family members sometimes seek revenge.
"It becomes a bloodbath," Noman Khanani said. "It needs to be thought of politically, rather than just warfare."
– Paula J. Owen, Telegram & Gazette, Oct. 19, 2015