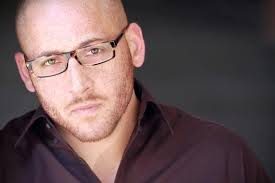 International speaker, author and mental health advocate Kevin Hines, one of approximately 30 people to survive a suicide attempt at the Golden Gate Bridge, will be the keynote speaker at a Mental Health Awareness Conference on Thursday, March 27 from 8 a.m. to 3 p.m. at the Colonial Hotel in Gardner.
The free conference, sponsored by the SHINE Initiative, Mount Wachusett Community College, and Heywood Hospital, will also include a panel presentation and luncheon.
Hines, author of Cracked, Not Broken: Surviving and Thriving After a Suicide Attempt, has spoken to audiences around the world about his firsthand experience with suicidal thoughts and his eventual attempt in 2000 by jumping off of the Golden Gate Bridge. He now promotes suicide awareness internationally, speaking with student, professional and veteran affairs audiences about his battle with bi-polar disease and his ongoing crusade to live mentally well.
He has been featured in the critically acclaimed film "The Bridge," on Larry King Live, 20/20, Anderson Cooper 360, Good Morning America, and Ireland's famed Tonight with Vincent Browne. Hines has been featured in hundreds of radio, film, and television media outlets. His articles have appeared in the San Francisco Medical Magazine, The Santa Barbara Independent, New Voices at Bay, National Council Magazine, The San Francisco Chronicle, Advancements in Psychiatric Treatment and other publications. He was recently honored as a Lifetime Achievement Award Winner by The National Council for Community Behavioral Health.
Panel speakers will include: Bryan Doe, Department of Veterans Affairs, Springfield Veterans Outreach; Dr. Stephanie Rodrigues, Assistant Professor Department of Psychiatry, Division of Addiction, University of Massachusetts Medical School, Dr. Heather Brenhouse, Assistant Professor of Behavioral Neuroscience Psychology Department, Northeastern University.
The program will conclude with QPR training. QPR stands for Question, Persuade and Refer – three simple steps that can help save a life by recognizing warning signs of a suicide crisis.
"Mount Wachusett Community College is proud to continue this important initiative with our community partners to raise awareness of an issue that affects countless lives and families in the U.S. and locally," said MWCC President Daniel M. Asquino.
Mental health problems affect more than 50 million Americans and their families, including as many as 300,000 students and young adults in Massachusetts at any given time.
Established in 2004 by Fidelity Bank, the SHINE Initiative's mission is to recognize mental illness in children and young adults as a mainstream health issue.
"Our focus on young people is fueled by the knowledge that half of lifetime cases of serious mental illness begin by age 14," said Paul Richard, the SHINE Initiative's executive director. "Mount Wachusett Community College is to be commended for recognizing that mental health is an integral piece of total wellness and not to be overlooked."
For more information about the conference and to register online, go to https://mwcc.edu/continuing/conference or contact MWCC's Division of Lifelong Learning and Workforce Development at 978-630-9525.