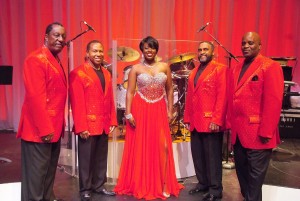 A musical journey through the Motown years will take place at Mount Wachusett Community College's newly renovated Theatre at the Mount on Friday, Jan. 22 to benefit the MWCC Foundation scholarship program and the Boys & Girls Club of Fitchburg & Leominster.
The Magic of Motown at the Mount begins and 7:30 p.m. and features a cast of singers and dancers that recreates the harmonies, dance moves, stylish looks and legendary musicianship of the era. The performance includes the hits of Stevie Wonder, The Jackson Five, The Four Tops, The Temptations, Marvin Gayle, Smokey Robinson & the Miracles, the Isley Brothers and others.
"We are delighted to present this community event to benefit the Boys & Girls Club and the MWCC Foundation's scholarship program," said MWCC President Daniel M. Asquino. "We're partnering to help students of all ages build a great future."
Since 2001, the Boys & Girls Club of Fitchburg and Leominster has worked in youth development with young people ages 8 to 18 from many economic, social and family circumstances.
"From its beginning, the Boys & Girls Club of Fitchburg and Leominster has benefited from the generosity of individuals, corporations and organizations," said Leominster attorney Justin Gelinas, chairman of the Boys & Girls Club Board of Directors. "We are grateful to the community for its ongoing support, particularly Mount Wachusett Community College, for serving as our primary sponsor and host of this event."
Sponsors to date include Mr. & Mrs. Daniel M. Asquino, The Ronald M. Ansin Foundation, Heat Trace Products, Heywood Hospital, I/C Federal Credit Union, Enterprise Bank, Advanced Cable Ties, Fidelity Bank, HealthAlliance, Bemis & Associates, GFA Federal Credit Union, Workers' Credit Union, Rollstone Bank & Trust, North Middlesex Savings Bank, Simonds International, Leominster Credit Union, Geosearch Inc., SimplexGrinnell, Zottoli Family Trust, Molds International, Mr. and Mrs. Scot Barrett, W.E. Aubuchon Foundation, Fitchburg State University, Dunkin Donuts, Mr. and Mrs. Raymond Martino, and Hometown Bank.
General admission is $50 for the concert. Special VIP tickets are $100 and includes reserved seating and a cocktail reception.
For tickets and sponsorship opportunities, contact MWCC Foundation Executive Director Carla Zottoli at czottoli@mwcc.mass.edu or 978-630-9276.