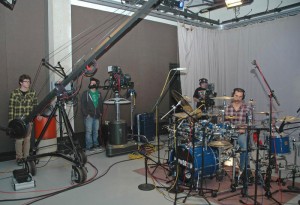 Blend the talent of a local musician, the expertise of MWCC Broadcasting & Electronic Media faculty, and the skills of students eager for an authentic audio and video recording experience and the result is impressive.
Ashburnham drummer Scott Beddia, who is also a nursing student at MWCC, teamed up with Professor Joel Anderson, Assistant Professor John Little and students recently enrolled in the courses Music Recording and Mixing Techniques and Studio Operations and Multi-camera Production, to create a professional quality tutorial video distributed by Beddia's "IndepenDRUM." The video, which can be viewed on YouTube here, was also recently posted to Beddia's website, independrum.com. The musician mentioned the extraordinary recording session with MWCC students during a recent interview with Metronome magazine, which is scheduled to appear in October. He's also sent copies of the video to Boston-based drumstick maker Vater and Norwell-based Zildgian, which makes cymbals.
Beddia comes from a family of musicians who introduced him to many instruments and styles of music. He studied with noted instructors Joe Rizzo of New Hampshire, session drummer William Kennedy of New York and the late Alan Dawson of Massachusetts. His eclectic performance experiences range from drum corps competitions to his one-man drum show "IndepenDRUM. He also performs and teaches locally.
"This collaboration required a more sophisticated system than most of the students had experienced previously, and reinforced the importance of effective communication among the technical crew," Anderson explained. "After the audio was mixed, it was resynchronized with the video. The high definition video was then compressed for publishing to the Internet."
The audio mix was done at Up-Side-Sound Recording Studio in Ashburnham and attended by the audio students during a field trip. The video was shot with the college's new high definition multi-camera system. Three video cameras and seventeen microphones were used in the production.
The video, nearly 13 minutes long, is a drumming tutorial of how Beddia came up with one of his complicated polyrhythmic compositions. It describes the math involved in the piece's beat structure with examples of how he plays the various sections and concluding with a performance of the piece in its entirety.
"It was a great experience, and the video came out great!" Beddia said.
"I had never recorded a drum set before," said student Tiffianie LeBlanc, one of the participants in the production. "So being able to mic up every drum separately and decide which mic was going to be best for which drum was a lot of fun, especially being able to do it with the whole class working as a team on it."