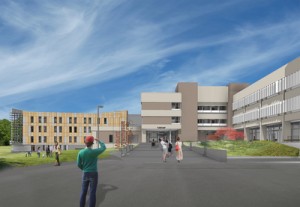 As we ring in 2015, we are also ushering the start of our Gardner campus transformation.
In preparation for construction of our new science building and improvements to the Haley Academic Center, contractors will remove ceiling tiles in designated locations in the basement and on the first, second and third floors during the holiday break. This will allow access to HVAC controls, plumbing, and mechanical and electrical systems, which will be replaced or upgraded as part of the overall project.
Regular college operations will continue throughout the project, though minor and temporary interruptions are necessary as we prepare to transform our campus.
The ceiling tiles being removed contain minimal amounts of asbestos and will be removed using strict containment and air monitoring procedures. For this reason, access to some offices will be unavailable.
Mount Wachusett Community College is taking every step to ensure a safe and healthy work and learning environment on campus. For the abatement work, the college has hired Environmental Compliance Services, Inc., a Massachusetts licensed asbestos abatement contractor that is also certified by the U.S. Environmental Protection Agency.
Abatement contractors follow strict rules (regulatory and contractual) and a third-party consultant is on site to document contractor compliance, including review of licensing and permitting prior to removal, pre-removal review of the regulated areas to document compliance, air sampling of critical barriers around regulated areas, safe work practice verification, final visual inspections and air testing upon project completion.
Once the tiles are removed, abatement work is completed. Most of the ceilings will remain open through summer 2015 to allow for continued access to the systems.
Check the NewsCenter regularly for updates as we begin this exciting time at MWCC.