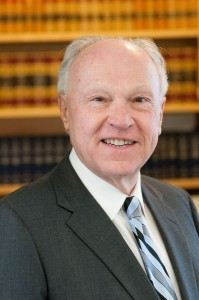 Community leader and long-serving volunteer Charles A. Gelinas, Sr. is the recipient of Mount Wachusett Community College's 2014 Service Above Self Award. The award, which recognizes individuals who have made significant contributions within the 29 cities and towns that make up the college's service area, will be presented during MWCC's 49th Commencement on Wednesday, May 21.
A partner in the law firm Gelinas & Ward, LLC, Attorney Gelinas has supported the region and community in a wide range of capacities, including as a founding member, current member and past chair of the Community Foundation of North Central Massachusetts, and as a member and past chair of the Leominster Education Foundation. In addition, he has served as chair of the North Central Massachusetts Chamber of Commerce, as chair of the United Way of North Central Massachusetts, as a former trustee and vice chair of Fitchburg State University's Board of Trustees, and numerous other community and civic organizations.
Projects with which Gelinas has been involved include the Johnny Appleseed Visitors Center, the Fitchburg State University Recreation Center and the development of the Community Foundation that now controls assets in excess of $35 million and annually distributes $500,000 to nonprofit organizations and charitable causes.
"We are proud to present this year's Service Above Self Award to Attorney Charles A. Gelinas, Sr., who has been a driving force behind countless initiatives that have enriched our community," said MWCC President Daniel M. Asquino. "His spirit of generosity and willingness to share his time and talents exemplify the importance of engaged citizenship and the difference one person can make in the world."
A native of Fitchburg who now resides in Leominster, Gelinas said that he is honored to receive the award to promote awareness of the importance of community service and leadership.
"Civic engagement was a core family value and so participating in community organizations that promote the public good and a higher quality of life in our region was a natural path to follow and one that has been extremely satisfying and rewarding on a personal level," he said. "
"Ultimately, we are all in this together and need to share whatever talents and resources that we have for everyone's benefit. And so, I am genuinely pleased to receive this award from Mount Wachusett, not so much from a point of personal pride but rather to promote civic engagement as a value worthy of public honor and to encourage a culture of leadership among the college's students who are the next generation to confront our regional challenges."
The altruism of the Gelinas family spans generations. Charles' father, A. Andre Gelinas emigrated from Canada, became a U.S. citizen and served in World War I, before establishing the law firm in 1923. He also served as Special Justice of the Fitchburg District Court and then as District Attorney for Worcester County and was involved in numerous community organizations and civic groups. The family patriarch also was one of the founders of the IC Federal Credit Union, and chaired its board for 50 years.
The Fitchburg District Courthouse is named in honor of Charles Gelinas' father and brother, Andre A. Gelinas, former Presiding Justice of the Fitchburg District Court and former Associate Justice of the Massachusetts Appeals Court who likewise was committed to numerous community organizations. A majority of the family's farmland on Pearl Hill in Fitchburg was donated to Fitchburg State University to be held in perpetuity as conservation land.
Gelinas earned a bachelor's degree in English Literature from the College of the Holy Cross, followed by a master's degree in English Literature from Assumption College and his Juris Doctor from Suffolk University Law School.
He and his wife, Janis, who also works at the law firm, have three children and six grandchildren. Their son Justin Gelinas and his wife Ashleigh also practice law with the Leominster firm; daughter Kristin Howlett, a member of the Leominster School Committee also works at Gelinas & Ward, and their son Charles A. Gelinas, Jr. practices law in New York City.