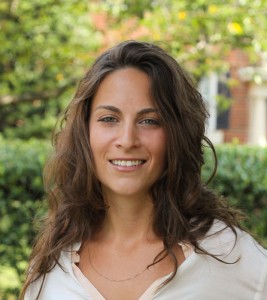 Chevenee Reavis, director of strategic initiatives for the global, nonprofit organization Water.org, has been named Mount Wachusett Community College's 2014 Alumna of the Year.
In 2000, Reavis simultaneously earned an associate degree in Business Administration and her high school diploma as a dual enrollment student. A member of MWCC's Honors Program, she went on to graduate summa cum laude from Emerson College with a bachelor's degree in Communications and Marketing. Since then, she has carved out a career as an international strategy, innovation, and public affairs executive advancing social justice around the world in such areas as health, economic equality, and access to clean water and sanitation.
We are delighted to welcome Chevenee Reavis back to Mount Wachusett Community College as our 2014 Alumna of the Year," President Daniel M. Asquino said. "She arrived on our campus as a teenager with a thirst for knowledge, so it is fitting that she now devotes her time, energy and talents helping quench the thirst of those in need around the world. She truly is an inspiration."
At Water.org, Reavis leads the organization's global advocacy efforts and New Venture Initiative. Founded by actor Matt Damon and CEO Gary White, Water.org has transformed thousands of communities in Africa, South Asia, and Central America by providing access to safe water and sanitation to more than 1 million people.
She recently co-led an innovative multi-media campaign that includes the celebrity-studded, comedic online "toilet strike," which features Damon, U2 front man and philanthropist Bono, actresses Jessica Biel and Olivia Wilde, Virgin Group founder Sir Richard Branson, and others raising awareness to the cause by pledging to "not to go to the bathroom until everyone in the whole world has access to clean water and sanitation."
In January 2013, Reavis scaled Mount Kilimanjaro in Tanzania with fellow advocates, educators, musicians and celebrities during Grammy-nominated musician Kenna's annual "Summit on the Summit" to further advocate on behalf of the 2.5 billion people worldwide affected by the water crisis.
Prior to joining Water.org in 2010, Reavis spent a decade advancing the missions of leading foundations, government agencies, Fortune 500 corporations, and nonprofit organizations. Her public and private sector experience includes working with ACCION International's Center for Financial Inclusion, the Centers for Disease Control and Prevention (CDC), the Global Health Council, Management Sciences for Health, Pfizer, Inc., Starbucks Coffee Company, State Street Bank, and Unitus.
Reavis said she is thrilled to be selected for the award and for the opportunity to return to MWCC for commencement.
"I felt so comfortable at the Mount. It was a community that cared about my advancement," she said.
Raised in a military family and a former resident of Ayer, Reavis came to MWCC in her junior year of high school. She credits a guidance counselor at Ayer High School for introducing her to the dual enrollment program, which was a pivotal opportunity in her life.
"The decision to attend Mount Wachusett clearly changed my path. As a result of my time there, I transferred to Emerson College in Boston. I consider it to be a really important part of my story."