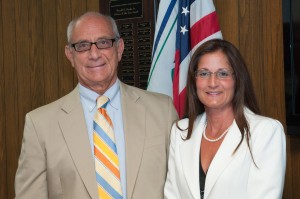 Human Services major Christine Eck was sworn in as Student Trustee on July 10. Eck, a Barre resident, was elected by her peers this spring to the one-year position on the Board of Trustees.
As student trustee, Eck serves as a full voting member on the 11-member board. She said she was encouraged to seek the position by former Student Trustee Caroline Horvitz, who graduated in May.
Eck has previously served as secretary of the Student Government Association, and serves as vice president of the Human Services Club. Among her activities this past academic year, Eck spoke before Congressman John Olver and Congresswoman Niki Tsongas in May during a forum on student financial aid and attended the first Massachusetts Public Higher Education Advocacy Day in March to meet with legislative staff to discuss a variety of issues affecting college students. She is also a member of the Phi Theta Kappa honor society and serves as a student ambassador.
Attending college as an older student "opened a whole new door for me," said Eck. "Like any student, I came expecting to learn and study and take everything in." Her professors and fellow students encouraged her to become more proactive and involved.
"I've met so many individuals who encouraged me to step up."
Eck is married to Herman Eck, chief forester for the Quabbin/Ware River Region for the Massachusetts Department of Conservation and Recreation. They have three children ages 10 to 19, including a son who studies Criminal Justice at MWCC.