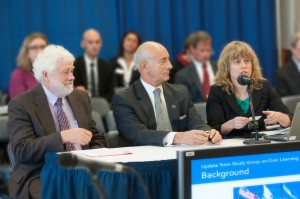 Civic engagement was a featured topic during the state Board of Higher Education's Oct. 29 meeting, held at MWCC.  The meeting was also the first attended by its newest member – MWCC SGA President Kathy Matson, who began a one-year term representing of all public higher education students in Massachusetts.
President Daniel M. Asquino and members of the board's Civic Learning and Engagement task force provided the full board with eight recommendations on how to develop a statewide civic learning strategy as part of the Vision Project's key learning outcome, "preparing citizens."
President Asquino joined Shelley Tinkham, DHE assistant commissioner for Academic, P-16 and Veterans Policy, and task force member John Reiff, Director of Civic Engagement & Service-Learning at UMass Amherst, to present the recommendations. Massachusetts is the first and only state to require public higher education institutions to include civic learning and engagement as an expected student learning outcome.
"We are a society confronted with a civic recession. It's time to step up to the plate," said President Asquino, who implemented civic engagement as a hallmark at Mount Wachusett Community College nearly two decades ago. Since emphasizing community engagement and learning in its academic programs, students "are more excited about their learning. They're actually going out into the community to apply that learning," he said.
The eight recommendations, which will be reviewed by the board's academic affairs committee in early December before returning to the full board for a vote on Dec. 10, include:
Defining civic learning and engagement in context of academic initiatives;
Requiring each institution to submit an internal assessment of its capacity to achieve the Vision Project goal of preparing citizens;
Requiring each institution to describe how they include civic learning and engagement as an expected and measurable learning outcome for all students;
Requiring institutions to describe how new academic programs will address civic learning and engagement as an expected learning outcome;
Collaborating with faculty unions to enlist their support for including engaged scholarship in the evaluation criteria for hiring, retention, promotion and tenure;
Researching and developing ways to measure student learning outcomes of civic learning and civic engagement to allow for institution-to-institution and state-to-state comparison;
Facilitating and supporting the implementation of civic learning and engagement as an expected learning outcome for all students; and
Addressing civic learning and engagement in college-readiness initiatives to ensure that incoming college students have the skills and background to be successful in college-level civic learning and engagement academic experiences.
MWCC's leadership and success in civic engagement initiatives was featured in the Department of Higher Education's newly released Vision Project annual report, Within Our Sights: Inside Campus Efforts to Achieve National Leadership in Public Higher Education.