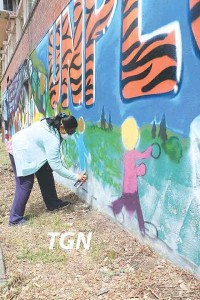 GARDNER  What used to be an average, graffiti-covered wall at Jackson Playground is quickly becoming the city's first large-scale piece of public art, thanks to Mount Wachusett Community College students armed with cans of spray paint.
Over the past week, a team of about half a dozen students have been working on the "Unplug and Play" mural depicting a scene of children leaving behind their video games to take advantage of a playground.
"Technology is the obsession of a generation," said Mount Wachusett artist Ben Mikel. "They're getting sucked in. We're trying to encourage kids to go outside and play and drop their phones."
Last year, the city redid Jackson Playground, upgrading all of the equipment and improving the landscape. However, after a series of trees came down to provide the public with better visibility, a wall covered with both generic tags and more complex graffiti became a problem for some officials.
So the city decided to have it painted over. "With the mural, we're hoping people might take some pride in the park, instead of seeing it as a place to graffiti," said Joshua Cormier, the city's economic development coordinator who pushed for the project. "This is a quality-of-life thing."
Using art to deter graffiti isn't a new idea. In 1984, Philadelphia became a pioneer in anti-graffiti by reaching out to street artists and asking them to make large murals of public art.
The program — which continues to this day — changed the landscape of the city and inspired other communities. In the past few years, cities such as Tampa Bay, Minneapolis and Buffalo have created their own programs.
"Using spray paint is not such a bad thing if you know how to use it," said Mr. Mikel, who has enjoyed handing out official letters from Mayor Mark Hawke to any skeptical residents.
As part of the project, Mr. Mikel and friend and fellow "aerosol artist" Jesse Maguine are teaching other Mount students — who have all volunteered their time — the finer points of spray-painting: such as how to hold a can, create depth and develop a style.
One of these students is Kabilgangai Subramanian, who started by working on the grass but has slowly moved up to people.
"I've always wanted to do murals and I want to try all different kinds of art," she said. "It's fun, though my fingers were cramping up when I did the grass."
The mural — built to tell a story about the benefits of playing outside — is full of Gardner-specific details. The Big Chair is there, as well as Mount Wachusett's wind turbines, Wildcat pride, and a replica of Jackson Playground.
"There's a lot of little details in it," said Mr. Mikel. "The kids are going to be able to relate to the characters and the scene."
Among themselves, the artists joke that one day the playground will be known as the "Unplug and Play" Playground.
Both the artists, the Mount and city officials share a hope that this won't be the last mural for the city. Mr. Cormier said he is asking community members what other walls would make good spots for public art projects.
While plans are still on the drawing board, he said the city will likely apply for grant funding to offset the costs of paint.
Simultaneously, the city has also partnered with Worcester County Sheriff Lew Evangelidis to have an inmate work crew paint remove unwanted graffiti throughout the city. Mayor Hawke is asking citizens to report target areas on his Facebook page.
Katie Landeck, The Gardner News, May 27, 2015