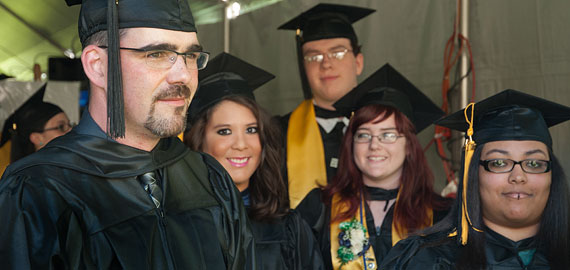 Service to community and to others was a central theme during Mount Wachusett Community College's 47th Commencement, held May 17 in the Fitness & Wellness Center. More than 700 associate degrees and academic certificates were awarded.
"My soul was inspired by heroes who guided my values," state Senator Stephen M. Brewer, chair of the Senate Ways and Means Committee, said in his keynote address, noting the influence of leaders such as President John F. Kennedy and Senator Robert F. Kennedy. "As you embark on the next journey, I encourage you to remember that a life of service is a life of significance."
"Your graduation from Mount Wachusett Community College is a kind of insurance for success," the senator said. "No matter what happens, no one can take away your degree or the lessons that you have learned. I commend you for keeping education as one of your top priorities and capitalizing on your own ambition to better yourself and broaden your horizons. You are all role models for our community."
President Daniel M. Asquino spoke of the "circle of good" that spans a lifetime and builds through service and commitment to others. He noted that this year, faculty and staff have devoted many thousands of hours to benefit the region.
"My wish for you is that you use your education to continue these pursuits and to improve your life, that of your family and friends and that of your community, your state and your nation, and that you manifest a behavior that enlarges your circle of good."
This year's ceremony marked a number of firsts for the graduating class. Board of Trustees Chairman James Garrison noted that the Class of 2012 includes the first graduates of the college's new Energy Management program, the first group of teens to graduate from the Pathways Early College Innovation School, the first graduates of the Finish First agreement with Fitchburg State and Worcester State Universities; and the first MWCC graduates from the Northeast Veteran Training and Rehabilitation Center, built on campus property by the Fitchburg nonprofit Veterans Homestead, Inc.
The Trustees Award was presented to Liberal Arts major Caroline Horvitz, who served the past year on the college's Board of Trustees and previously served on the Student Government Association. The Dean's Key was presented to Student Government Association President Isaac Matson. Three students were recognized as recipients of the President's Key award for academic achievement: Matthew Cucchiara, Colleen Grimes and Robin Watson.
Emeriti status was awarded to retiring faculty and staff members College Counselor Nancy Kennedy, Professor Nola Sapienza and Professor Bonnie Toothaker.
Alfred E. LeBlanc, retired chief of the Leominster Fire Department and leader in the college's Fire Science Technology program, was recognized as the 2012 Alumnus of the Year.
LeBlanc encouraged the graduates to build up a "toolbox" which includes support from family, friends and mentors; education; and experience to remain prepared throughout life. "Education and training go hand in hand. One gives you the understanding, the other the hands-on experience. Today is not just a starting point, but a foundation for you," he said.
The Service Above Self Award was presented to long-serving community volunteer Douglas A. Starrett, president and CEO of the Starrett Company in Athol. Mr. Starrett accepted the award on behalf of the many area residents he has worked with on various community causes. He encouraged the graduating class and current students to continue volunteering in their communities.
"You will find that giving back to the community that you love will provide an inner satisfaction that you cannot describe, and it is medicine for your soul," Starrett said. "Giving of your time and talents will enrich your community, your life and the lives that you touch."
MWCC student leaders Caroline Horvitz and Isaac Matson were honored as members of the All-Massachusetts Academic Team during a recognition ceremony at the State House on May 8. The Phi Theta Kappa honor society, community college presidents and the Massachusetts Community College association sponsored the event.
The ceremony included remarks from Department of Higher Education Commissioner Richard Freeland, State Representative Tom Sannicandro, chair of the Joint Committee on Higher Education; Gretchen Manning, deputy director of the Massachusetts Community Colleges executive office; and Robert Caret, president of the University of Massachusetts.
Two days later, Horvitz returned to the State House to participate in the second annual "29 Who Shine" awards ceremony, sponsored by the Massachusetts Department of Higher Education.This award honors 29 outstanding public college and university graduates, one from each community college, state university and UMass campus in the state, for their academic achievement and community service.
Horvitz has served this past year as Student Trustee on MWCC's Board of Trustees. A Liberal Arts major, she is a member of the Phi Theta Kappa honor society and the Commonwealth Honors program. She also previously served on the Student Government Association. She is transferring to Mount Holyoke College this fall to continue her studies in medieval history and Latin.
Matson, a Criminal Justice major, served the past year as president of the Student Government Assocation and previously as vice president, as well as on the Crusade 4 Christ club and other campus organizations. He is transferring to Westfield State University this fall to continue his studies.