Whether they came to Mount Wachusett Community College to accelerate the pace of their education or to get back on track after a problematic high school experience, this year's 51 graduates of the Pathways Early College Innovation School and the Gateway to College program have this in common: they each reached a milestone.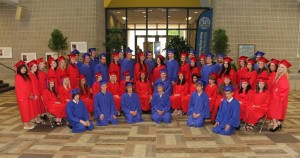 Students enrolled in the two dual enrollment programs, which are offered in partnership with the Ralph C. Mahar Regional School District, were recognized during a May 22 graduation ceremony in the college's Raymond M. LaFontaine Fine Arts Center theatre.
As dual-enrolled students, the graduates all completed the requirements for their high school diploma while simultaneously earning college credits or a degree.Massachusetts Commissioner of Elementary and Secondary Education Mitchell D. Chester delivered the keynote address, lauding the students for their success, and their families and friends in the audience for providing ongoing support. He noted that the quality programs are serving as models for other institutions and school districts to replicate.
"What an opportunity. For some of you this was a second chance. You were heading down a path that was not going to lead to a diploma. For others, this represents an accelerated path toward an associate degree. This is an incredible accomplishment. I can't tell you how impressed I am."
MWCC President Daniel M. Asquino, Ralph C. Mahar Regional School Superintendent Michael Baldassarre, and Deborah Bibeau, Assistant Dean of Transitions Programming at MWCC, were among the ceremony's speakers. Patricia Gregson, Associate Commissioner, Vocational, Workforce and College Readiness Programming for the Department of Elementary and Secondary Education, who was responsible for launching the two programs at MWCC while serving as Vice President of Access and Transition, also attended the celebration.
Baldassarre noted that the graduates have experienced a unique opportunity among the Commonwealth's 900,000 K-12 students.
"Each and every year has been a pleasure to watch the number of graduates grow from fewer than 10 to now 51," he said. "These programs are creating opportunities for students."
Claudia Elbourn of Gardner was valedictorian of this year's Pathways graduating class. The 17-year-old earned an associate degree in Liberal Arts and Sciences with a 4.0 grade point average, as well as a top academic award this year – the President's Key. She plans to transfer this fall to Gordon College to pursue a bachelor's degree in English. Gateway valedictorian Ketheny Dutka of Leominster, who was born in Brazil and moved to the U.S. at age 11, said the program provided an opportunity to begin a new stage in her life. Named to the college's dean's list, she plans to continue at MWCC next year to complete her associate degree in Business Administration.
School choice funding covers the cost of tuition and fees of both programs. During a visit to the MWCC campus earlier this spring, Massachusetts Secretary of Education Matthew Malone praised the programs as models he is interested in replicating throughout the Commonwealth, a sentiment that was echoed during the graduation ceremony by Commissioner Chester, and MWCC and Mahar officials.
One of the first two innovation schools created in Massachusetts as part of Governor Deval Patrick's education reform bill and the first early college innovation school, Pathways provides motivated high school juniors and home schooled students the opportunity to accelerate the pace of their academic careers.
The Gateway to College program, established in 2005 as the first Gateway site in New England, provides a second chance for students ages 16 to 21 who have dropped out of high school or are at risk of dropping out. Students simultaneously earn their high school diploma through the Mahar Regional School District, as well as college credits toward an academic degree or certificate in the field of their choice. Approximately 100 students from throughout the area are enrolled in the Gateway program each year. The majority of the graduates will continue their education at MWCC or at another college or university.