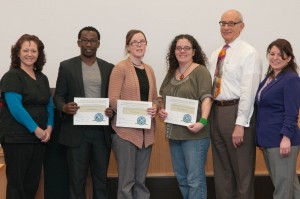 Joram Kiriungi, a nursing student who was born and raised in Kenya, Kate Murphy, a local artist and community volunteer majoring in Liberal Arts, and Renee Chandler, a human services major and poet, are the winners of Mount Wachusett Community College's Commitment to Diversity Scholastic Competition.
The students were recognized by MWCC President Daniel M. Asquino and the college's Diversity Committee on Feb. 20. Each will receive a free, three-credit academic course.
Kiriungi, who has lived in the U.S. since 2004, is pursuing his associate degree in nursing. In his essay, "Race," Kiriungi examines his experiences as a black man living in America, having come from a country where he did not encounter prejudice because of the color of his skin.
"I applaud Mount Wachusett for initiating this exercise, which has allowed me to find a place for an honest discussion on what it means to be a black man in America who is not a slave descendant," Kiriungi said. "In my paper, I examine the complications faced by people like me who cannot claim to identify with the black experience wholly, but yet are subjected to the same level of prejudice as any other black person in America is."
Murphy, an artist, student, mother, wife and active volunteer in the community, was selected as one of the top three winners for her painting, "What Separates Us." Her vibrant paintings and mixed media illustrations reveal complex, yet ambiguous narratives of a cartoonish, cubist reality that may in fact be our own. The diversity competition provided a perfect venue for her style of work because she often explores people, their attitudes and reactions to each other and their environment. After graduating from MWCC this spring, she plans to transfer to Fitchburg State University to pursue a bachelor's degree in sociology.
Chandler received the award for her collection of poems on diversity and mental health awareness. She earned her GED from the college and continued on through the Adult Basic Education program and is now a full-time student pursuing degrees in human services and complementary health care.
"I wrote about mental health, as that is my passion and decided to bare it all in my poetry," she said. "I am so excited to be recognized for my writing and am thrilled to have had this chance to express my feelings openly and be rewarded for it."
The competitive award provides a certificate and funding for a three credit course. The scholastic competition allowed students to prepare papers, posters, essays, research work, or other original, creative work related to issues of diversity or identity, such as those involving disability, race, socioeconomic status, veteran status, gender, ethnicity, sexual orientation, and national origin, as well as the value such diversity brings to the learning and working environment.