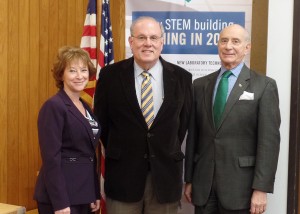 Leominster and Gardner attorney Richard A. Cella has been reappointed to the Mount Wachusett Board of Trustees by Governor Charlie Baker.
Attorney Cella, who first joined the board in 2010, was officially sworn in on Thursday, Dec. 10 during a brief ceremony at the college.
"Attorney Cella is a dedicated community leader and we are delighted with his reappointment to the Board of Trustees," said MWCC President Daniel M. Asquino. "He is a tremendous asset to the college and the greater community as we continue our mission of providing students with access to quality, affordable education and expanding economic development partnerships and opportunities in our region."
Attorney Cella has served as secretary of the Mount Wachusett Community College Foundation and as a trustee for the Community Foundation of North Central Massachusetts. He previously served as director and clerk of the North Central Massachusetts Development Corp.; as director and treasurer of the National Plastics Center and Museum in Leominster; as a trustee and member of the executive committee for Leominster Hospital/HealthAlliance Leominster; director of the North Central Massachusetts Chamber of Commerce; chairman of the Mayor's Task Force in Leominster; and chair of the City of Leominster Industrial Development Commission.
He earned his bachelor's degree from Clark University and his law degree from Boston College Law School. He is a member of the Massachusetts Bar Association, the Massachusetts Real Estate Bar Association, the Worcester County Bar Association, the Worcester Estate Planning Counsel and the Montachusett Estate Planning Council and this year's President of the Worcester Economic Club.