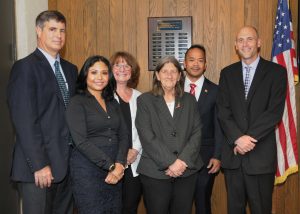 Three community leaders joined the Mount Wachusett Board of Trustees last week after being appointed by Governor Charlie Baker.
"I am pleased to welcome these community leaders to the Mount Wachusett Community College Board of Trustees. I know that they will not only work to better the College but provide important insights into their communities and areas of interest," said MWCC President James Vander Hooven. "They will each be a tremendous asset to the college as we continue our focus on providing students with a quality, affordable education."
Claire Freda, Denise Kindschi Gosselin, and Dean Tran officially joined the board during a swearing in ceremony on Thursday, Aug. 10. Following the ceremony, Robert Antonioni, who has served on the board since 2015 and is an attorney with Antonioni & Antonioni Law Office, presided over his first meeting as Chairman of the Board of Trustees.
"This is very much a wonderful honor and I look forward to working with my fellow board members, staff and most importantly the students," said Bob Antonioni during the meeting.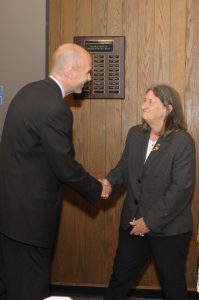 Claire Freda is a licensed real estate appraiser and broker who has been involved in local government in Leominster in numerous forms. She has been serving as an at-large councilor since 2010, and was the Ward 3 Councillor from 1994 to 2009. She served on the Leominster school committee from 1987 to 1994. Freda is also involved with government at the state level, serving on the Local Government Advisory Council and Massachusetts Municipal Association since 1994 and has been the Women's Elected Municipal Officials Chair since 2012. In addition to government involvement, she has been a member of the Leominster Rotary Club for 23 years and president for six.
"I'm excited about being on the board because there are so many pieces that I'm interested in that the college is involved with," Freda said.
Denise Kindschi Gosselin, Ph.D., is a Professor Emeritus of Criminal Justice at Western New England University. She is also a retired Massachusetts State Police Trooper. Gosselin served as a Detective for the Hampden County and Hampshire County District Attorney's Offices. She specialized in the investigation of crimes against women and children. Her duties included investigation of all major crime and she participated in surveillance, undercover investigations, narcotics raids, and renditions. Gosselin's career in law enforcement began after she graduated with a degree in law enforcement the same year her father graduated with his nursing degree.
"Graduating with him just filled my heart," said Gosselin who explained a number of other members of her family have also graduated from the college. "I see Mount Wachusett as a family place for us and I feel like I owe a lot here. It's where I started my career. I became the first (MWCC) female campus police officer."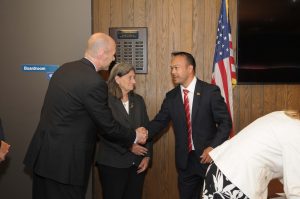 Dean Tran is a Senior Manager at Avid Technologies, Inc. where he oversees personnel and projects across three continents and is responsible for over $200 million in annual revenue. Tran is also a member of the Fitchburg City Council. He has been a councilor at-large since 2006 and has held council positions including Vice President and Chairman of the Legislative Affairs Committee and City Property. Tran also serves on the Executive Board for the NVC Boys Scout of America, Board Corporator for the YMCA and Massachusetts Municipal Association. In his spare time, he is a volunteer coach for the Fitchburg Youth Soccer and Youth Baseball.
"Mount Wachusett Community College is a beautiful campus that provides an exceptional and affordable education," said Tran. "I am excited for the opportunity to work with President Vander Hooven, the staff and the Board of Trustees to increase enrollment and bring prosperity to the College."