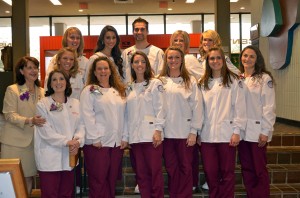 MWCC made history on Monday, May 13 when the first graduates of the new Dental Assisting program made their way up to the stage. These eight graduates along with the 12 graduates from the Dental Hygiene program were welcomed into the profession during a traditional pinning ceremony in the Raymond M. Lafontaine Fine Arts Center theatre. Dr. Melissa Fama, vice president of Academic Affairs welcomed the graduates and their families on behalf of the college. Anne Malkasian, program director, and keynote speaker Katharine Soal congratulated the graduates about their achievements and the road ahead.
 Soal, an adjunct instructor at MWCC and an assistant professor of dental hygiene at Quinsigamond Community College, began her career in Dentistry in Eastbourne, England as a registered surgery assistant. After moving to the U.S. she received her associate degree in Dental Hygiene in 1999, and went on to earn a bachelor's degree and is now completing her maste's degree. Soal provided the graduates with an informative and humorous speech on the important lessons she learned as a dental assistant and dental hygienist. "Keep calm, speak up, empathize, educate yourself, and give a little extra every day. It's the patients that matter and that is what makes the career," she said.
Special awards were presented to students who showed exemplary skill within their discipline. Melanie Jones was presented with The Johnson & Johnson Award, which is given to a student who demonstrates outstanding clinical expertise, education in health promotion/disease prevention and recommendations of clinically researched oral hygiene care products. Kristy Edstrom was presented The Hu-Friedy Award for excellent clinical skills and competence and the willingness to always go above and beyond in the clinical setting.  The Dental Hygiene Department Award was presented to Erin Ross for her overall strong academic achievement, clinic excellence, leadership, and making the dental setting team-oriented. The Dental Assisting Department Award was presented to Samantha Dunn for her overall excellence in academic achievement and clinical skill.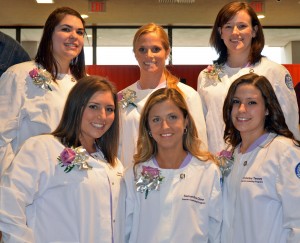 Graduating student Brandon Warren, president of the Student Dental Hygienist Association at MWCC, also spoke during the ceremony on the theme of "Little Did I Know." Warren started the program assuming he would just be one more hygienist looking at patients' mouths every six months. He couldn't imagine that after it was over he would know the names of every "foramen, notch, process, fissure, sinus, and muscle on the entire skull."  Warren explained that learning to be dental hygienists meant that the class members were not learning to be "toothpickers." Rather, they were learning to be clinicians, educators, advocates, managers and researchers, in order to prevent oral disease and promote health. "We were learning how to be health care providers."
Warren ended his speech with a meaningful phrase of encouragement shared by the class.  When someone did well on a test or answered a question correctly, he and his classmates would say, "You excel," to each other. "As excelling became a part of each day, none of us were able to excel alone. Each person helped one another along the way bringing us closer as a group."
For more photos, visit MWCC's Facebook page.