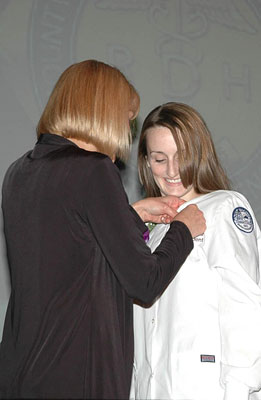 Graduates of MWCC's Dental Hygiene program were welcomed into the profession during the department's sixth annual Dental Hygiene Pinning Ceremony in the Raymond M. Lafontaine Fine Arts Center theatre. Dr. Melissa Fama, vice president of Academic Affairs, and Anne Malkasian, program director, congratulated the graduates on their achievement.
"The recipe for success is using courage, initiative, perseverance and integrity to accomplish anything you can dream or desire," said keynote speaker Kelly Jancaitis, a dental hygienist for more than 30 years and an adjunct faculty member at MWCC. "You are the leaders in your own life's journey, the leaders in your career, and you will be the leaders in your profession. Dream big for yourself and for your profession."
Jancaitis, a member of the American Dental Hygienists' Association and a member of the board of the Massachusetts Dental Hygienists' Association, encouraged the graduates to become active in the local, state and national levels of the ADHA, which can open doors to extraordinary new experiences. Jancaitis, for example, traveled with an ADHA delegation to Russia and Poland, where they met with dental hygienists in both countries, toured offices and clinics, visited an orphanage in Poland and had the opportunity to experience cultural events.
"It was awesome. Get out of your operatory and experience some of the wonderful opportunities waiting for you in the profession of dental hygiene."
Caitlyn McBride was recognized with the department' curriculum award and three members of the class – Dana Bellar, Jessica LaPrade and Kaitlyn Therrien – were recognized for starting their careers as dental assistants with the Community Health Center in Fitchburg before continuing their education and earning their associate degree to become licensed dental hygienists. Freshman Kristy Eckstrom received the Ellen Daly Scholarship, presented in honor of the former MWCC Trustee who was instrumental in starting the dental hygiene program.