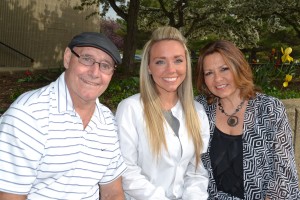 In between learning about patient care, x-rays and cavity prevention, Mount Wachusett Community College dental assisting student Stephanie Ollari consequently taught her classmates and professors a lesson or two about the life-saving gift of organ donation.
Just two months after donating one of her kidneys to save the life of her father, Tim, the Millers Falls resident stepped onto the stage with fellow graduates during the college's traditional dental programs pinning ceremony on May 15.
"Steph, you are such an inspiration to all of us," classmate Kaylynn Gaskell said from the podium. "You have so much determination in you. Thank you for being so brave and having such a kind heart. We love you!"
Gaskell's words brought tears to the eyes of many attending the event, which celebrated the academic achievements of 12 dental assisting program graduates and 15 dental hygiene program graduates.
Ms. Ollari was joined by her father, mother Sandy, siblings Elysia and John, and boyfriend Bryce Molner, and others who have stood by the family for many years during Mr. Ollari's health battles, which included a double-lung transplant in 2009 due to an inherited, genetic condition.
She has been waiting two years to be old enough undergo the surgery. Her father had been on a donor list for seven years and on dialysis for three, and originally was adamantly opposed to the idea of accepting a donation from one of his children. But when Ms. Ollari's siblings said they would willingly do the same for her, should she ever need one, he finally acquiesced.
Ms. Ollari turned out to be a perfect match for her father. They underwent the multi-hour procedure on March 12, National Kidney Day, at Brigham and Women's Hospital in Boston, and both are well on the mend.
"I always say if I had a third one, I'd do it again," the gregarious 25-year old remarked prior to the pinning ceremony.
"She didn't miss a beat," said Cynthia Cadoret, chair of MWCC's Dental Programs department, which provides trainign at the colleg's satellite campus in Fitchburg, located within the Fitchburg Family Community Health Center. The surgery was scheduled around spring break, and with some adjustments to her clinical experience schedule, she was able to keep up with her coursework, Cadoret said.
"I am just so very, very proud of her," Mr. Ollari said of his daughter, who plans to work in the field before returning to her studies to become a dental hygienist. "The dental assisting program was huge for her to get the experience and skills he needs. She was dedicated and determined."
"She's very inspiring," said Sandy Ollari. "She's been wanting to do this since day one."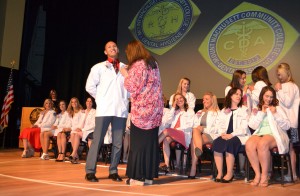 The ninth annual pinning ceremony included congratulatory remarks from new program chair Cynthia Cadoret, Dr. Melissa Fama, Vice President of Academic Affairs, and guest speaker E. Jane Crocker, president of the American Dental Hygienists Association, Massachusetts, and dental hygiene class president Celine Grimley.
During the ceremony, the graduates were pinned by faculty members and several students were presented with awards.Class President Celine Grimley received the Dental Hygiene Department Award; Tasey Lemieux received the Dental Hygiene Curriculum Award; Samantha Dunn received the Johnson & Johnson Award; Jillian Legere received the Hu Friedy Golden Scaler Award; Sharon DiNardo received the Dental Assisting Department Award, and first year-student Alyssa Adoretti received the Ellen Daly Scholarship.