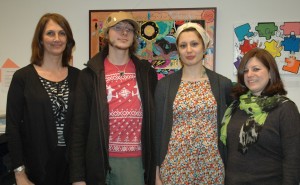 MWCC students Kyle Johnson, Heather Rick and Tamara Harmon are the winners of the second annual President's Commitment to Diversity Scholastic Competition. Each will receive a free, three-credit academic course.
Rick, a paralegal studies major, was selected for her essay, Chair City, which reflected on her experience of class in Gardner. Her fiction, poetry and essays have appeared in a dozen literary journals and she is currently working on a novel.
"Much of my work explores issues of class, particularly as it intersects with racial and sexual identity and the deconstruction of privilege. As someone who identifies as a working-class artist and has had to struggle to afford an education, I would like to work to provide underprivileged youth with access to arts education," she said.
Johnson and Harmon, both art majors, were selected for artwork depicting diversity. Harmon created a sculpture of a human hand covered with images of world flags and a variety of faces. Johnson's abstract painting features images of people, the tree of life, and panels depicting challenges and trimphs throughout the journey of life.
The competitive award provides a certificate and funding for a three credit course. The scholastic competition allowed students to prepare papers, posters, essays, research work, or other original, creative work related to issues of diversity or identity, such as those involving disability, race, socioeconomic status, veteran status, gender, ethnicity, sexual orientation, and national origin, as well as the value such diversity brings to the learning and working environment.