GARDNER – The best way to remain safe from domestic terrorism is to notify the authorities when someone is "acting off," because the Federal Bureau of Investigation can't stop random terrorist acts and won't likely know about it until it has already occurred, according to law enforcement officials.
A panel of law enforcement officials talked about domestic terrorism and how community members can remain safe and become vigilant, during a forum Monday at Mount Wachusett Community College.
Panelists were Reed Hillman, chairman of MWCC's Criminal Justice Department and former commander of the Massachusetts State Police; FBI Agent Kimberly Lawrence; John DiFava, police chief at Massachusetts Institute of Technology, and Matthew Sweeney, a doctoral student at the University of Massachusetts, Lowell. The panel talked to a packed room in the school's north cafe on "Domestic Terrorism from a Law Enforcement Perspective."
Event coordinator Sharmese Gunn from MWCC asked the panelists how, living in a time when homegrown attacks occur more frequently, a community can overcome a domestic terrorist attack, which could occur in a location where people are going about their daily lives, such as a movie theater, school, airport, church, nightclub or sporting event.
All of the panelists said that terrorism isn't new and talked about horrific events going back more than 100 years carried out by groups with their own political objectives, against non-combative groups, in an effort to instill fear in people.
Mr. Hillman asked the audience to name a cause and he'd name the terrorist incidents throughout history in which groups tried to intimidate the "other side" through violence.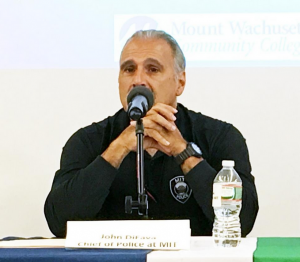 MIT Police Chief Mr. DiFava said terrorism personally hit home and "hurt deeply and very painfully" when MIT Officer Sean A. Collier was killed by the Tsarnaev brothers after the Boston Marathon bombing.
He and the other panelists agreed that giving up some civil liberties and privacy was a necessary balancing act to protect the public from potential threats. Surveillance cameras help with identifying suspects, they said, and were invaluable in unraveling the Boston Marathon case.
Without such cameras, Mr. DiFava said, no one would have known what happened when the Tsarnaev brothers attacked Officer Collier.
Public awareness and notification of authorities are also key, the panel said, and emphasized the importance of coming forward with information that may help.
Ms. Lawrence said the FBI classifies all terrorist acts as international even if they happen on U.S. soil, such as the Orlando nightclub shooting June 12.
"Everyone needs to work together," Ms. Lawrence said. "Terrorists feed off our fears. … If you see someone acting a little off, looking up ISIS, going overseas, you need to make a call."
Mr. Sweeney said the unwillingness to "give up a friend" and to report indicators needs to change.
"You need to say something," he said.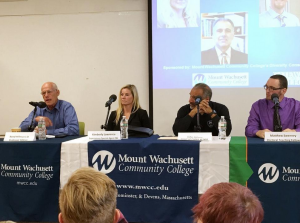 Mr. Hillman said the person might have an affluent background and be relatively educated, but a commonality among terrorism suspects is that they are misfits and have a hard time with interpersonal relationships.
Ms. Lawrence said in the recent terrorist plot in Springfield, thwarted by the FBI, there were many signs that people did not report. Though Michael C. Finton went into Wal-Mart dressed as "Osama bin Laden" with his mother and bought three pressure cookers, no one called the authorities from Wal-Mart or tried to stop him, until his father finally came forward, she said.
"This was a highly violent individual who, after he was arrested, in the sheriff's department, he stabbed a nurse in the head three times," she said. "We have to do this together. We can't stop random acts. We are getting a majority (of our information) from tips. They can be anonymous. We can do an initial check and run it through our database, but we can't stop random acts and we don't know until they are already done."
Paula J. Owen, Telegram & Gazette, September 26, 2016