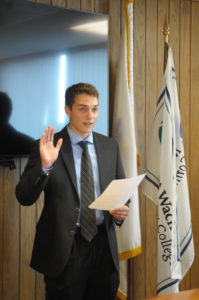 Mount Wachusett Community College student Dylan Doyle has been sworn in to the college's Board of Trustees, following a spring election by his peers as the board's student representative.
As the student trustee, it is Dylan's role to be an official representative for his fellow students. He is a full voting member of the board, but much of the work takes place outside of these meetings. Dylan said he sees his role as the student representative to gather student concerns and be an active member of both the trustees and the school community.
"I really want to represent the interests of the students," said Dylan. "I really connected with the community. That's part of what motivated me to get involved."
The Clinton resident said that after a semester at MWCC, he knew that he wanted to step up and be a voice for other students. As a dual-enrollment student in the Pathways Early College Innovation School, Dylan has entered his second year at Mount Wachusett Community College as he takes on this new role. He is majoring in Liberal Arts and Sciences.
Dylan is one of nine Mount Wachusett Community College students that were elected by their peers to student government leadership positions in April. Those representatives are:
Sophomore Representatives:
Allison Guthrie of Templeton
Riya Patel of Ashburnham
Ethan Williams of Leominster
Freshman Representatives:
Ayana Brodeur-Edmonds of Fitchburg
Kwakor Quartey of Shirley
At Large Representatives:
Oluwatosin Ashaju of Fitchburg
Onome Ivylynn Kekeke of Fitchburg
Courtney Rouse of Fitchburg