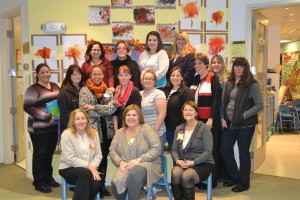 Nearly 100 alumni, students and faculty of MWCC's Early Childhood Education (ECE) program gathered November 19 at the Garrison Center for Early Childhood Education to celebrate the ECE program's annual alumni gathering. The theme for this year's event was Planting the seed of leadership in others. Harvesting the leadership in yourself.
"We love our fall alumni event. Our students plan and create an educational and inviting service learning event. This gives them a feeling for the importance of planning and hosting events that welcome families and community members" said Associate Professor Maureen J. Provost. "We are excited to see our alumni and hear about their important work in early education and the positive impact they have on children and families' lives! It is wonderful to welcome them back to where they began their careers" Provost added.
"I love coming back here, because everything started here," said 2011 graduate and former Student Trustee Chrissy Lajoie, who has since earned a bachelor's degree from Fitchburg State University and is now working with toddlers and families as an early intervention specialist in Worcester.
"It's such a great feeling, when you come back here, even though I graduated 20 years ago," said Maria Paulino, owner of Busy Bees preschool in Fitchburg. "You come back and feel like you're home." Paulino, a 1988 graduate of MWCC, also went on to earn a bachelor's degree at Fitchburg State. Nine years ago, she purchased the long-established Busy Bees preschool, which serves 50 children with a staff of eight that includes other MWCC alumni she has hired.
In addition to the alumni reunion, students from the Home, School and Community Relations and Leadership in Early Education courses showcased their fall semester projects, highlighting important information for families and communities. This essential service learning project is focused on deepening students' understanding of serving others.