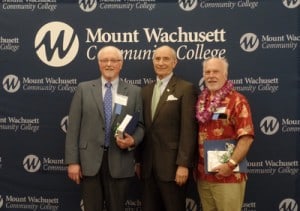 President Daniel M. Asquino and the Division of Human Resources and Payroll honored employees who reached the milestone years of service with the college during the 21st annual Employee Service Awards Ceremony on May 2.
Collectively, the recipients represent 625 years of service to MWCC students and the college community.
Vincent Ialenti and Professor Ken Takvorian were recognized for 45 years of service to MWCC. Donald Knower and Mary Plummer were recognized for 35 years of service, and Kathleen Suchocki was recognized for 30 years of service.
Rosanne Morel, Patricia Sabulis and Madhu Sharma were recognized for 25 years of service, and Denise Bolduc, Susan LaBonte, William Land, Jr., Ann Marshall, Kathleen Mcginn, Jo Ann Meagher, and Jacqueline Shakar were recognized for 20 years of service.
Employees recognized for 15 years: Eleanor Gauthier, Constance Helstowski, Deborah Holland, Angela Lunn-Marcustre, Joyce Maynard, Paul Swerzenski and Tina Wilson.
Employees recognized for 10 years: Charity Cooley, Peggy Dow, Dawn Fontaine, Andrew Goodwin, Amy Kendrick, Heather Layton, William Lefrancois, Thomas Matsuda, Kathleen Panagiotes, Ellen Pratt and Collene Thaxton.
Employees recognized for five years of service include: John Femino, Michelle Goderre, Festus Kiprono, Danielle LaPlante, John Little, Tammi Lloyd, Mary Maga, Sarah McMaster, Shelley Errington Nicholson, Raeanne O'Sullivan, Marcia Rosbury-Henne, Daniel St. Onge and Paul Valila.