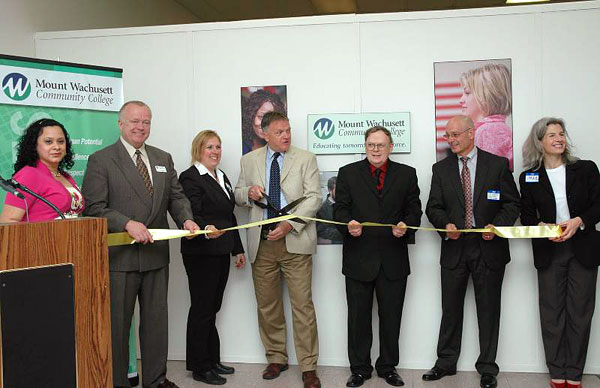 Dozens of area business leaders and local officials joined representatives from Mount Wachusett Community College for a ribbon cutting ceremony on May 9 to officially launch the new North Quabbin Entrepreneurship Center in Athol. The center, located at 80 Freedom Street, is a partnership between the town of Athol and its Community Development Block Grant program and the college's Division of Lifelong Learning and Workforce Development.
"We recognize that small businesses are absolutely essential to the economic health of the region," said Jacqueline Feldman, vice president of Lifelong Learning and Workforce Development at MWCC. Classes are tailored to benefit those interested in starting their own business and current owners of small businesses interested in enhancing their skills.
While open to anyone who wants to register for classes, tuition waivers will be made available through the town's CDBG program for income eligible residents from Athol, Petersham, Phillipston and Royalston, as a priority. Income eligible residents from Erving, New Salem, Orange, Warwick and Wendell will also be eligible for tuition waivers as class limits allow.
Upcoming classes include: budgeting for your company; starting your own business; interpretation of financial statements; project management risks and cost analysis; basic and intermediate financial accounting concepts for managers; and starting your own direct sales company.
To register for classes, contact Teresita Encarnacion at the MWCC workforce development office at 978-630-9575 or via email at t_encarnacion@mwcc.mass.edu.