What Is a Dental Assistant?
For starters, let me give you a better understanding of what a dental assistant is.  In technical terms, "A dental assistant is a dental health professional who works closely with or under the supervision of a dentist."  They provide efficiency to the dental office and carry out a number of tasks and responsibilities for both the patients and the office itself.
The Challenges of Being a Dental Assistant
Now on one side of the spectrum, dental assisting has its pros and its cons. Just like any other job, it isn't for everyone.  If you think you might have what it takes to be a dental assistant, first ask yourself if you can handle the sights (and smells) of a dental office.
For all you quiet people out there, this job may not be for you.  As a dental assistant, it's your job to communicate with the staff, as well as the patients to ensure they're comfortable and to express any instructions for them to follow in terms of their at-home care.
As for you queasy folks, you should be sure you're aware of all the unpleasant situations you will encounter on the job.  For instance, there are a variety of procedures you may participate in that may be difficult to look at.  Additionally, the patients may not have brushed thoroughly prior to their appointment (if you know what I mean…)
Not only that, but dental assistants have quite a load of responsibilities to take care of.  Let's just say that with a significant variety of roles to play as a dental assistant, you won't easily get bored!  Some of the responsibilities of the position include:
Welcoming patients and ensuring they are comfortable
Gathering patient information and medical history
Assisting the dentist with various procedures
Keeping equipment sterile and preventing infection
Providing the patient with proper care instruction
Performing treatment such as taking x-rays and impressions of teeth for molds
Handling general office tasks like scheduling appointments and maintaining inventory supplies
The Perks of Being a Dental Assistant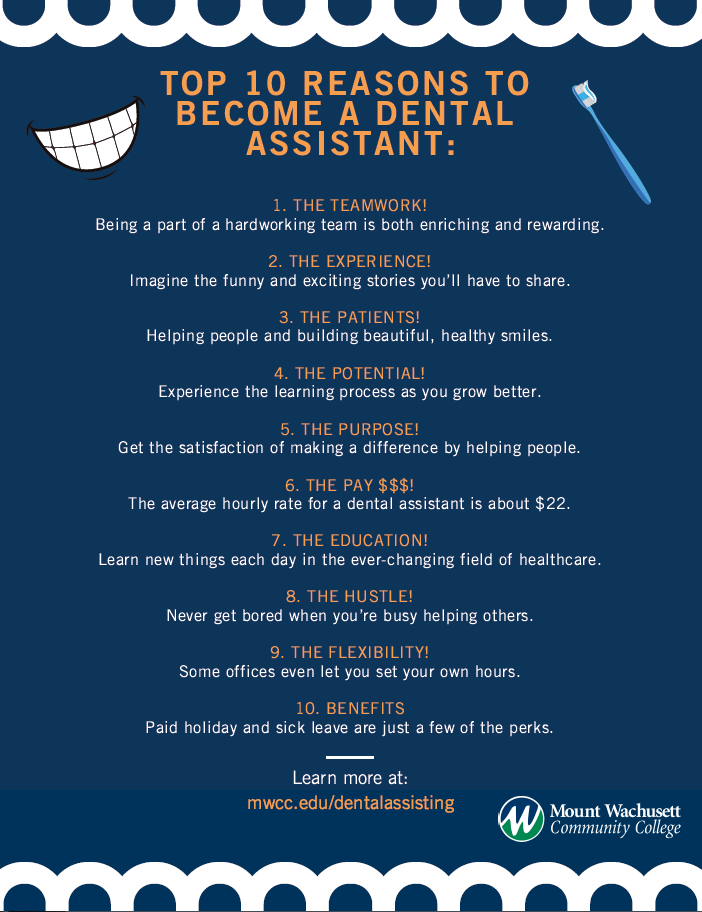 Now, although the tasks may seem extensive, and the duties might be a little hard to take sometimes, the perks and advantages of this job definitely outweigh the downside in my opinion:
First of all, this position is great for those with busy lives as it's very flexible.  There are both part-time and full-time opportunities and it caters well to individuals who are planning on raising a family in the future.
The work-life balance is easy to maintain with this type of job.  You can still keep up with your life outside of work, with plenty of time to kick back and binge-watch Netflix too!
Not to mention, the career potential and opportunities are plentiful. Jobs are steadily increasing each year.  According to the Bureau of Labor Statistics, the job outlook for dental assistants is expected to increase by 19% between 2016 and 2026.
With extra education and training, you can even expand your career to more advanced positions.  Some options include becoming a dental hygienist, a dental office manager, working in dental sales, or even teach as a dental health educator.
The personal satisfaction you'll receive knowing you've helped someone is one of the most rewarding feelings, especially when you get to do it on a daily basis!
Finally, the median salary for dental assistants is $45,771 with experienced workers even reaching $61,000!
Get Trained Fast: MWCC's Dental Assisting Certificate Program
Dental assisting training doesn't take a long time. In fact, you can finish our 9-course Dental Assisting Certificate Program in as little as one year!  Here at Mount Wachusett, we offer the perfect ticket to set you on your path towards success in the dental assisting field.
We'll give you valuable hands-on experience following the coursework and you'll be able to work in two different dental practices as part of your clinical rotation.  Getting that real-world experience will really expand your knowledge of the world of dental assisting.  Here's what an MWCC Dental Assisting graduate had to say about their experience working in a dental office:
"As of now, I have about 1 month's experience actually working in a dental office.  My favorite things about work so far are that the people I work with are very kind and welcoming, and I am learning so much," said Sarah O'Sullivan, an MWCC alum who completed our Dental Assisting Certificate Program in May 2018. "I love being able to apply what I learned in school to real life."
Get Ready for the DANB Certification
It's important to note that our Dental Assisting Certificate is accredited by the Commission on Dental Accreditation. That means our program will prepare you to take the Dental Assisting National Board Exam so that you can be nationally certified as a dental assistant.  According to Sarah, she was able to find a job almost immediately after taking her tests. "After completing MWCC's Dental Program, I went to take my DANB tests to become a certified Dental Assistant.  Once I received my certificates, I applied at a few places and ended up finding a job!," she said.
Where You'll Go Next
You'll be job-ready fast.  Once you've completed this program, you will be completely prepared to apply for dental assisting positions!  I know you're probably wondering where you'll go next, so I did some research:
There are 1,000 job openings for dental assistants in Greater Boston every year.
Currently, there are 7,577 dental assistants employed in Greater Boston.
Massachusetts is one of the top five paying states for dental assisting with an average hourly wage of $20.23.
As you can see, the opportunities are plentiful!  There are even opportunities within the position itself, allowing you to choose to work in solo dental practices, group practices, specialty practices, hospital dental clinics, dental school clinics, and so much more!
What MWCC Students Have to Say About Our Dental Assisting Certificate Program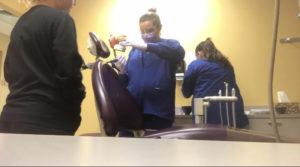 Take it from Sarah O'Sullivan, who loved the program. "I found the MWCC Dental Assisting Program to be very beneficial," she said.  "The teachers and everyone involved with the program were more than helpful and wanted us all to succeed," she said. "I think the program is great because it is designed to help you achieve your goals, but also to make sure you're comfortable with moving forward."
After completing her program and taking her DANB tests, Sarah went on to pursue a career in the dental field.  She now is working in a dental office as a dental assistant, doing exactly what she wanted to be doing from the beginning. She said, "The beauty about being an assistant is that you can go in many directions with this schooling. Some dental assistants work in oral surgery, ortho, forensics, in schools as teachers, in dental labs, in sales, and so on."
"Dental assisting requires working as a team member and also working with the general public.  It's really interesting to meet so many people and rewarding to be able to help them and teach them more about their oral health," she said.
Sarah added, "So far I am loving what I do and I can't wait to keep on learning and meeting people! I definitely think more college students should pursue dental assisting."
Sarah's journey shows how you can pursue your dream career as a dental assistant and be successful.  Like you, Sarah started with nothing more than an interest, and she was able to complete the program, take her DANB tests, and find a job without any additional training or education.  Take the next steps toward your career in the dental field and join our program!  You never know, it could be the best decision you'll ever make!
To learn more, please visit: https://mwcc.edu/academics/certificate/dental-assisting/
---
About the author:
Alexandria Faneuf '19 is a Liberal Arts major at MWCC. She is a contributing writer for the News Center.