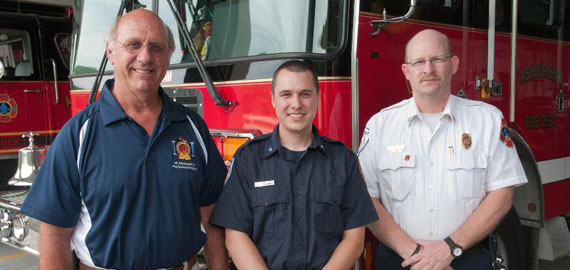 MWCC Fire Science Technology students now have the opportunity to gain around-the-clock experience through a new, live-in component to the academic program. The Ashburnham Fire Department became the first local fire department to offer a residential component for students, and two other local communities are preparing to do the same.
Gardner resident Ken Chase, 24, is the first student to participate in the live-in program. Since the spring semester, he has bunked at the Ashburnham fire station several nights a week and will continue to do so while completing his associate degree.
"It's making a huge difference. I get to see how everything is done here," he said. A member of the U.S. Army Reserve, Chase said he's also benefiting from the camaraderie of living at the station. "It's comparable to the military, the brotherhood. It does feel like a family here."
"We wanted to enhance the program and give students an opportunity that they wouldn't have otherwise," said Alfred LeBlanc, a retired Leominster fire chief who serves as MWCC's fire science program consultant and chair of the Fire Science Advisory Board.
Chase, who earned certification as an EMT, is also completing his Firefighter 1 and Firefighter 2 certification training with the Massachusetts Firefighting Academy while earning his degree at MWCC. The combination of education, training, certification, and experience will give the program's graduates a competitive edge while beginning their careers, LeBlanc said.
Last year, MWCC adopted the U.S. Fire Administration's Fire and Emergency Services Higher Education curriculum, which rejuvenated the program while aligning it with national academic and training standards. This spring, MWCC was one of four colleges in the country recognized for fully adapting the FESHE Institutional Recognition and Certificate Program. MWCC is the first college to offer the live-in component.
MWCC's degree program, geared toward those already working in the field as well those interested in pursuing a fire science career, can be completed entirely online or in combination with on-campus courses. Students pursuing the associate degree have the option of transferring credits toward a bachelor's degree, and they also receive certificates of accomplishment from the National Fire Academy.