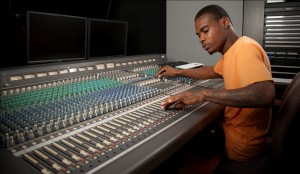 If you missed the free Kellianna concert at Mount Wachusett Community College as part of the college's 50th anniversary events, you can soon see what you missed on local cable access TV.
Kellianna, an internationally recognized singer songwriter of Celtic myth and magic, is originally from Westminster. She graciously accepted an invitation from MWCC to present a full concert in the college's theater in March, which allowed students in Audio Engineering and Video Recording to practice their craft.  As part of their course work, students recorded the concert and later edited the video and mixed the sound to create both a full concert DVD and a half hour television program. The DVD is enjoying international distribution to Kellianna's fan base and the TV show has been released to local cable stations and others throughout the United States.
The aesthetic of the concert would not have been possible without the donated help of Jeff Boisseau, Technical Theater Director for Theatre at the Mount. All faculty, students and staff, who participated in the presentation and recording of the concert, donated their time to the event. Six video cameras and two multi-track recording systems captured the show.
Though the concert was recorded in the theater, several weeks of subsequent student training in the media facilities yielded the final videos. The DVD and TV show are also the first productions to come out of MWCC's newly completed recording studio. The most intricate of the Mount's five sound studios, it is being utilized by Broadcasting & Electronic Media students concentrating in Audio Engineering.
A three-year project to create the studio began in 2009 when MWCC acquired a Yamaha PM 4000 large format analog mixing console from Comcast SportsNet New England, in Burlington. Acoustical engineering and architecture for the new studio was commissioned to Lou Clark of Sonic-Space, in Portsmouth, NH, and construction is credited to MWCC's facilities department. The room has custom made equipment racks by Dave Ruthardt of The Woodesign Company in Medway and is designed to serve as a recording/mixing facility as well as a teaching/learning space as recommended by MWCC faculty.
A major part of the system design of this new studio is state-of-the-art functionality for mixing audio with motion pictures.  It is now one of only a few college sound mixing rooms in the country that can marry sound and high definition video together to such a capacity.  Connecting the room's equipment together took hundreds of man hours by MWCC's media specialists Chris Chouinard, and Ben Mertzic.  It is estimated that if separated and connected end to end, the amount of wire used to connect this system together would reach five miles in length.
This recent production and other musical performances previously recorded at the college, including  "The Oakmont Jazz Band," "The Fine Tuners" and Scott Beddia's "IndepenDrum," give media students experience creating content in a way that is rare to most colleges. MWCC is fortunate to have the facilities, equipment, faculty and staff to offer experiences of production equal to current professional standards of music on television.  This concert was recorded live with no opportunity for second takes.
MWCC's newest recording studio is the latest upgrade to the college's media facilities, which are constantly maintained and updated to meet industry standards and curriculum advancements. In the summer of 2011, a renovation to convert the college's video training facilities to high definition yielded a new control room system, editing systems and video cameras.  Four existing audio studios have undergone regular updates and improvements, and the creation of a sixth audio studio is under way. It will feature an all-digital audio recording/mix room with a digital mixing console and digital connectivity to all performance areas including the college's theater.
MWCC's Broadcasting & Electronic Media degree offers concentrations in Audio Engineering, Video/Film Production and Photography.  The department is planning the next musical production for students to capture.
– John Little
Assistant Professor John Little teaches audio engineering at MWCC and is the owner and operator of the award-winning, full-service recording studio Up-Side-Sound in Ashburnham.