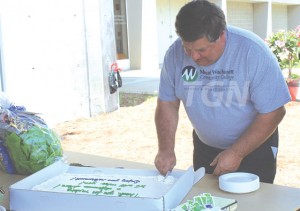 Eighteen years ago, Steve Wash­kevich was hesitant about taking the fitness director position at Mount Wachusett Comm­­unity College.
The place ran on more the 60 part-time employees, which seemed like a logistical nightmare, and it had only been open as a community facility for one year. Prior to that, it had been closed for 10 years.
"I almost didn't take it," Mr. Washkevich said at his retirement party on Monday. "A friend had said this would never ever work. Well, he was wrong. The staff's been good. The community is good. I don't have a bad thing to say."
On his last day, Mr. Washk­evich piggybacked off the annual barbecue for the Silver Sneakers, a fitness program for Medicare-eligible individuals. He told members of the club how much he enjoyed his time at the Mount and each of them.
"I think I've enjoyed the seniors more than they've enjoyed me," he said, joking that he would remember what they taught him in the coming years.
Upon retirement, Mr. Wash­kevich plans on spending more time with his family, which includes his wife, Nancy, three daughters and a grandchild.
"I have a honey do list down to the ground," Mr. Washkevich said, "starting with babysitting my granddaughter tonight."
Prior to coming to Mount Wachusett, Washkevich was the director of athletics at Anna Maria College for more than 20 years. He studied at Bridgewater State University for his bachelor's degree in health and physical education, and then a master's degree in administration and leadership.
Filling his running shoes will be Jared Swerzenski, a Fitchburg native who previously worked at Fitchburg State University as supervisor of intramural sports.
Mr. Swerzenski, who started his new position on Monday, has none of the hesitations his predecessor had. "I'm excited," he said. "I like how this is a mix between the college and the outside community."
One of his main goals will be to increase the center's membership by pulling in more community members, and building on the facility's strengths.
"The variety we have to offer, the size of the building, is its strength. You can get personal training, you can swim, play basketball and racquetball," said Mr. Washkevich. "It's a great family place where parents can work out with their children and are in the indoor playground or doing other activities."
(Katie Landeck, The Gardner News)