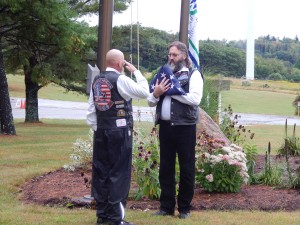 Students and employees at Mount Wachusett Community College paused in remembrance of the nearly 3,000 victims of the Sept. 11 2001 terrorist attacks, then joined in a card-writing project to thank men and women in the region who serve as first-responders and in the military.
The Patriot Riders returned again this year to lead flag ceremonies at the Gardner and Devens campuses, which were followed by a reading by Bob Mayer, MWCC Director of Veteran Services. Carrie Progen, a 1995 alumna from Ashburnham who worked at the World Trade Center, was among those remembered.
Student Government Association President Carrie DeCosta, who lost a friend in the attack on the World Trade Center, distributed patriotic ribbons to those who signed thank you cards to who serve others. Cards will be available for signing at the Gardner campus through Sept. 18 before they are distributed to active military personnel, veterans and first responders in the region.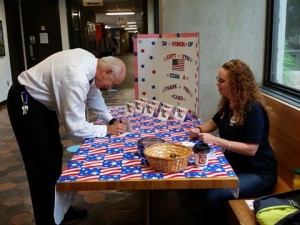 "We want our service men and women, our veterans and our first responders to know they're appreciated, and they're appreciated every day, not only on days of tragedy," DeCosta said.The events were coordinated by the college's Center of Excellence for Veteran Student Success, and the Student Leaders in Civic Engagement (SLICE) program, a new initiative of MWCC's Center for Civic Learning and Community Engagement.