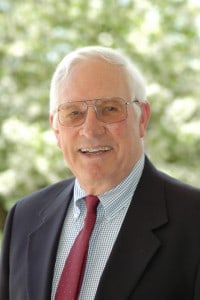 "We are deeply saddened to hear of the passing of our dear friend, Senator Bob Wetmore," said President Daniel M. Asquino. "He left an indelible mark on Mount Wachusett Community College in so many ways, from his unwavering support of students seeking careers and opportunities through higher education to his dedication and guidance when we began converting our all-electric campus to all-renewable technologies."
The college community joins his family and many friends in mourning a man who meant so much to so many in his public career and in his private life.
Following his retirement, the senator remained a frequent and welcome figure on campus, expressing his creative side by attending creative writing classes.
MWCC recognized Senator Wetmore with an honorary degree in 1996, and in 2004 dedicated a newly constructed wing on campus as the 'Robert D. Wetmore Center for Innovation and Design.'