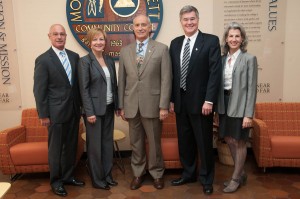 Four regional chambers of commerce are joining forces with Mount Wachusett Community College's business department to conduct the first annual joint survey of North Central Massachusetts business owners and executives. The Greater Gardner Chamber of Commerce, the North Central Massachusetts Chamber of Commerce, the North Quabbin Chamber of Commerce, and the Nashoba Valley Chamber of Commerce are collaborating with the college on the "MWCC School of Business and Chamber of Commerce Executive Survey of Business Trends."
The survey will track social marketing trends, local jobs forecast, new employee skills in demand, top college degrees in demand, organizational culture, employee benefits, organizational change management and what it takes to be a leader on the job. The results will help all business in the region better predict hiring and business growth plans for the region.
The online, confidential survey will be distributed beginning Nov. 1. It will target the owners, presidents and vice presidents that lead local firms and will feature four key components: staffing; organizational culture; change management; and marketing.
The staffing component aims to capture what local businesses are looking for in new employees and will describe the skills needed for success on the job. In addition, employers will describe the college degrees most in demand and benefits offered to employees. The organizational culture factors will be rated based on importance to each firm. The change management component will outline the factors that contribute to the overall view of local business growth as well as assess preparedness to respond to market factors, and the marketing component will rate customer contact methods, including social media, that are used by local firms.
Each participating chamber of commerce will receive a survey results report prepared by Dr. Michael T. Greenwood, management and economics professor and business department chair at MWCC. The survey report will help firms understand the aggregate scores that show how firms scored on the business factors covered in the survey. The survey will take approximately 10 minutes to complete and will be repeated each fall and will yield increasing benefits as each year's data is added to a database of trends. These trends, according to Dr. Greenwood, will start to shape a shared understanding of local business growth in the region, and will enhance state and national statistics that may not fully reflect the local climate.
"Partnering with local business is an important part of our overall mission at the college," said MWCC President Daniel M. Asquino. "This survey of business trends in our region represents another way we are partnering with local business."
"This annual survey will significantly expand the information local business leaders have at their disposal for strategic planning," Dr. Greenwood said. "In addition, it will be an important tool for anyone looking to get hired or grow their career in our local area. This is a win-win for businesses and potential employees," he said.
"Our partnership with higher education leaders like Dan Asquino and his team at Mount Wachusett is important to our core mission to help build a better educated worker with the skills most in demand by employers," said James Bellina, President and CEO of the Greater Gardner Chamber.
"Having this type of information for our region will be a significant benefit for our members as they plan to expand and hire," said David McKeehan, President of the North Central Massachusetts Chamber.
"The region has benefitted greatly through the partnerships, like this, created by MWCC. The information this survey will provide is going to be immeasurable to the business community," said Melissa Fetterhoff, President & CEO of the Nashoba Valley Chamber.
"We are pleased to partner with the other chambers and with Mount Wachusett," said Jay Deane, President of the North Quabbin Chamber. "Our members will benefit when they compare the survey results with their firm's policies and procedures."
The online survey has been designed to ensure confidentiality. "This web based survey is specifically designed to be 100% anonymous because we want everyone to feel comfortable sharing important business trends data," Dr. Greenwood said.