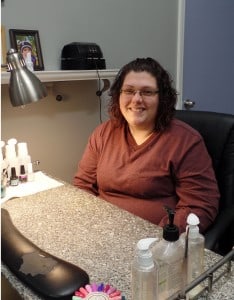 After 10 years in a cashier's job that left her unfulfilled, Francine Cochran of Winchendon became determined to pursue her dream of working in a salon as a nail technician.
It didn't take long for her to realize that in order to pursue training and certification in this field, she had unfinished business to resolve. Cochran, one of many area residents who left high school before earning her diploma, needed to earn a high school equivalency credential before she could move forward with her plan.
So she enrolled in the Winchendon Skills Program, a free Adult Basic Education program offered through Mount Wachusett Community College at the Winchendon Community Action Center through a generous grant from the Robinson-Broadhurst Foundation. After eight months of taking evening classes twice a week, she aced her exams and earned her high school equivalency credential in January 2013.
"I would recommend this to anybody," said Cochran, who credits her mother Ardy Bilodeau, her sister Cassie Cutting, and MWCC Adult Basic Education faculty and staff with providing her with support and encouragement she needed to reach her goal.
"It's a lot of work, but if you want to do it, you can do it." Cochran's dedication inspired her boyfriend to take the challenge, and now their diplomas are proudly displayed beside each other on a wall in their living room. "It was a great accomplishment."
Cochran went on to enroll in specialized training at an area cosmetology school and become a state-licensed nail technician. She is now happily employed in town at Dugan's Salon & Spa and "enjoys coming to work" in an industry that makes people feel happy.
Adult Basic Education programs seek to inspire students to see beyond the challenges of their daily lives, said Adam Duggan, MWCC's Interim Director of Adult Basic Education.
"Supportive instructors and staff collaborate with students to realize their full potential as members of their communities. Francine is a perfect example of how our program supports students in pursuit of their academic, personal, and professional goals. We are so proud of her accomplishments and contributions to the Winchendon community."
MWCC is committed to providing adults and out of school youth the opportunity to obtain a high school equivalency credential in order to assist them in accessing post-secondary education and skills training programs. The college operates a High School Equivalency Test Center serving adults 18 years old and older seeking to complete their high school equivalency test if they have not previously earned a high school diploma.
MWCC's free Adult Basic Education courses to prepare students for the HiSET test are also available at the college's campuses in Gardner, Leominster and Devens, as well as a site located in Fitchburg on the Fitchburg State University Campus. These classes are funded through various grants from the Massachusetts Department of Elementary and Secondary Education.
For more information about enrolling in the free classes, contact Pamela Dempsey-O'Connell at 978-630-9259, email pdempsey-oconnell@mwcc.mass.edu, or visit mwcc.edu/abe.