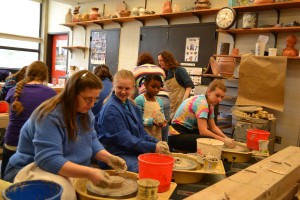 More than 300 area residents turned out for Mount Wachusett Community College's Free College Day on Saturday, April 13, registering for 800-plus seats in 50 workshops led by MWCC faculty and noncredit instructors who volunteered along with other members of the college community.
One of the college's 50th anniversary celebration events this year, Free College Day featured workshops in a variety of topics including art, math, science, music, automotive technology, computer technology, social media, writing, theater and dance.
Fifty door prizes, including free credit and noncredit classes, Theatre at the Mount tickets, Fitness & Wellness Center memberships, sweatshirts, t-shirts and gift cards were presented to attendees. Jeanne Hollows, a 1969 alumna of the college who works for the Townsend Planning and Land Use Department, said she was thrilled to win another top door prize, an iPad.