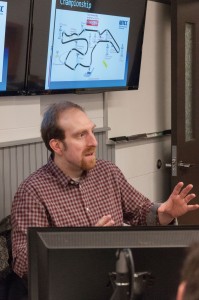 How do you get from Studio B in the basement of Mount Wachusett Community College to the advanced television studios at ESPN? MWCC alumnus Nate Haney shared how he did just that during presentations to Media Arts and Technology students on February 5 at the college's Gardner campus.
Haney, a 2006 graduate of MWCC who now works full-time as a stage manager at the Bristol, CT-based sports station, shared how he navigated the journey from classroom to dream job and what it's like to work for the "Worldwide Leader in Sports."
Internships, networking, volunteering and making the most of every opportunity that comes along were among the key tips he shared.
"I cannot emphasize enough the importance of internships due to the competitiveness. Be bold and daring, but not pushy. Make the most of every opportunity to learn and to network. Even if it's 8 a.m. on a Saturday, do it. It will be worth it in the end," Haney said. "Make yourself valuable, indispensable and unexpendable and great things can happen."
Haney received his degree from MWCC in 2006 and transferred to Massachusetts College of Liberal Arts in North Adams to earn his bachelor's degree. He started in the industry as an intern at WCVB Boston-Channel 5, then went on to work for four years as a freelancer and part-time seasonal studio technician for New England Sports Network, covering the Boston Red Sox and the Boston Bruins.
After enduring a six-hour interview at ESPN, he was hired as a stage manager in February 2013, starting off on the station's Sports Center. He is curently in training to become an associate director.
The MRT department, formerly known as Broadcasting and Electronic Media, developed a speaker series more than five years ago to introduce current students to industry professionals and hear first-hand about various aspects of the industry, said Associate Professor Joel Anderson. "We're always excited to invite our alumni back to share their experiences in the field."