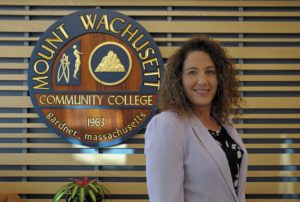 The CEO of GAAMHA, Inc. Tracy L. Hutchinson has joined the Mount Wachusett Board of Trustees after being appointed by Governor Charlie Baker.
"You will be a great addition to the board and I look forward to working with you" said Board President Bob Antonioni.
Hutchinson was sworn in as a trustee at the college's Dec. 7 board meeting. She said she will represent a younger generation on the board, having a son who is in his early 20's. Additionally, her work at GAAMHA ties her into the regulations that govern a number of degrees at MWCC, such as the Substance Abuse Counseling program.
Hutchinson has been the CEO at GAAMHA since 2013. The mission of GAAMHA, Inc. is to provide meaningful support, training, treatment, avenues to employment, and personalized opportunities to individuals with disabilities and substance use disorders; and to offer quality transportation services to the people who live in the communities we serve.
In addition to her role at GAAMHA, Hutchinson is on the board and is the clerk for the Greater Gardner Chamber of Commerce, a board member of the Massachusetts Association of People Supporting Employment, and a member of the MWCC Human Services Program Advisory Board.