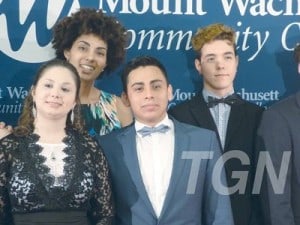 As far as anyone can remember, prior to Jasson Alvarado Gomez, no Mount Wachusett Community College student has ever held a film premiere at the school.
But a lack of precedent means little to the ambitious, aspiring filmmaker or his friends at the Mount who played starring roles in his first feature-length movie, "Black Diamond."
"I always like to do new things no one has ever done.
Doing this is good for students because they can see anything can happen … to follow their dreams," said Gomez.
Gomez wrote, produced and directed the movie, with the cast being mostly made up of Mount students or former Mount students he's met over the past few years.
Filming began in April 2015 and was completed recently, all the work culminating in the premiere of the movie held May 5 at the school.
The event mimicked the bright lights and glamour of the Hollywood scene; the red carpet was rolled out for the students, who wore dapper suits and elegant dresses.
The movie "Black Diamond" itself is far more rugged, being in the action-crime genre, involving a California teenager in foster care named Karla who is kidnapped by a gang that surgically implants a rare diamond in her body, hoping to use her as a trafficker into Mexico.
But with the help of people in the foster care system, Karla is moved out of state away from the gang, which instigates the drama of the movie as the gang does everything it can to find her and recuperate the valuable diamond.
All the action involved played out a childhood dream for Gomez, who said he always wanted to know how to make television since he was a little kid growing up in Honduras.
At the age of 14 he came to America to live with his uncle, and his parents still remain in Honduras.
Currently, Gomez lives in Orange.
At the Mount, he is enrolled in the Media Arts & Technology major, allowing him to hone his skills in the craft of film directing, which he hopes to make into a career.
"When I came here, there are so many opportunities in this country.
This is what I want to do with my life," he said.
Considering "Black Diamond" is an amateur production without any real budget behind it, Gomez relied on plenty of help from his peers to play the actors in the movie.
He said "I was just talking to anyone that came my way" in order to make the project come to fruition.
Front and center in the effort was former Mount student Kendall Mallet, who played the lead role of Karla, the teenage girl who is implanted with the diamond.
Mallet has a background in singing and will be attending seamstress school for fashion in the fall.
She met Gomez while she attended the Mount and thought the project was a different, interesting endeavor to pursue.
"I think it will be cool to show my kids, show my grandkids, 'Hey, I was in this movie,'" she said.
Playing Karla's foster care mother in the film was Mount student Tammy Goodgion, who studies Business and Human Services.
She had no experience with acting, but when Gomez asked her if she wanted to try, she said she figured why not.
"I loved the experience.
The cast and crew they were wonderful, wonderful to work with," she said, calling everyone a "big family."
Gomez also benefited from the generosity of some local establishments in Gardner such as the restaurant Taco Rey Coliman and the South Gardner Hotel that let him shoot some scenes there.
Many of the scenes were also shot at the Mount or in outside areas.
For now, there is no release plans for the film, but Gomez said he might put it on DVD later on.
In total, about 10 actors were used for the film, and since many are current or former Mount students, the film marks an accomplishment not just for them, but the school as well.
Individually, Gomez is quite accomplished himself too.
Next school year he will serve as the student trustee on the Mount's board of trustees, making him a voting member.
He was also elected to serve as a student member for the Massachusetts Board of Higher Education next year, and will be sworn into the position this summer.
Perhaps more notable than any one achievement is in general how independently driven Gomez is, working toward success in America while being away from his parents who live in their native Honduras.
"Going to school has helped me so much. I want to make my mom and dad proud," he said.
By Andrew Mansfield, The Gardner News, May 11, 2016