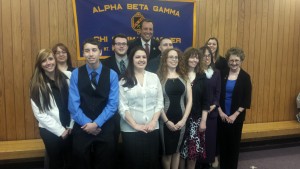 Gardner Mayor, MWCC Trustee and Alumnus Mark Hawke shared lessons learned throughout his career in business and public service with 17 Mount Wachusett Community College students who were inducted into the Chi Gamma Chapter of Alpha Beta Gamma, an international business honor society, at the 25th annual induction ceremony, Thursday, April 23.
After graduating from MWCC, Hawke transferred to the University of Massachusetts, Amherst, where he earned a bachelor's degree, then went on to earn an MBA from Anna Maria College. After pursuing a career as a financial analyst, he took a pay cut to take a job with the City of Gardner, and learned he loved the work so much, he wanted to run for Mayor. Now serving his eighth year as mayor, he still loves the work. "In this job, I can see the results of our work. If we plan to build a playground, we build a playground. If we say we are going to fill a pothole, we fill a pothole and we see the result."
He shared several pieces of advice gathered from his own career and lessons learned from other business leaders. "Never stop learning, never stop trying, and surround yourself with a good team," he said. He challenged the students to work hard and always to strive to surpass expectations. "You will be noticed and rewarded." He also credited Mount Wachusett Community College for putting him on a path of academic success. "It is an intimate setting and you really get to know the faculty, the staff and the college leadership," he explained.
To be eligible for membership into Alpha Beta Gamma, students must be enrolled in a business curriculum, have completed 15 academic credit hours in a specific degree program and demonstrate academic excellence by attaining a grade point average of 3.0 or above. At MWCC, the programs include Business Administration, Paralegal Studies, Computer Information Systems, Graphic & Interactive Design, and Medical Assisting.
The Chi Gamma chapter has a long history of community involvement, including activities to benefit NEADS, a Princeton-based service assistance dog organization; the Montachusett Veterans Outreach Center; the House of Peace and Education in Gardner; local food pantries; military troops serving overseas; and the national Alzheimer's Association.