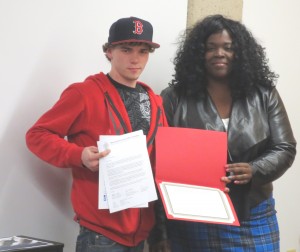 Joseph Almeida hated school for a long time.  By age 16, he had been expelled from high school and was on a path to an uncertain future.  Fast forward to present day, the 18-year-old Fitchburg native now likes school and is a successful student in MWCC's Gateway to College program, a full-time dual enrollment experience on the college campus.
Along with 28 of his peers, Almeida was recognized Monday, Feb. 24 for superior academic performance during the fall semester, where he earned 10 college credits in Sociology, Algebra and English Composition.  Along with the academic accolades, Almeida was also recognized with the John and Abigail Adams scholarship for high achievement on MCAS tests.
"Being on a college campus and in Gateway, gives me the freedom and independence that made me realize what is important. Being on a college campus made me more mature, and winning the John and Abigail Adams Scholarship gave me a second chance. It was a really big deal, not just for me, but for my family too. It means a lot more now!"
Sixteen-year-old Cynthia Lauricella of Gardner came to Gateway for different reasons.  As a member of a military family, a recent move and transferring high school credits actually put her behind schedule at her new high school.  Through her enrollment in Gateway, she is able to stay on track toward graduation while taking additional courses toward her high school diploma and Associate degree.
"When high school wasn't working out for me, the opportunity to complete my diploma through Gateway to College came along, and now I'm also completing credits towards a college education.  I am very thankful for what the program has offered me," she said.
The Gateway Achievers event, held across the nation at all 43 Gateway to College locations, is sponsored by the Gateway to College National Network in Portland, OR, and recognizes students for their academic achievement on the respective campuses.  The 29 students recognized last night all achieved at least a 3.0 MWCC grade point average, in addition to seven students receiving the Adams scholarship for stellar MCAS scores.  The Gateway Achievers program inspires students to work hard and persist in their education while helping them develop a better understanding of their experience as part of a national movement.
According to Deb Bibeau, Assistant Dean of Transitions Programming, "Gateway to College provides a fresh opportunity and clean slate for high school age students to re-engage with their education within the supportive environment of the college campus.  Students like Joey who struggled within the traditional high school setting have really blossomed on campus, re-writing their own educational stories by taking ownership of past mistakes and fully embracing the opportunities provided through the Gateway program."
Added Lea Ann Scales, Vice President of the Access, Transition and Development Division, "I get the most positive feedback from meeting the students and their parents and adult supporters. They are so grateful for the opportunity and are so very proud of their success at Mount Wachusett Community College."
Gateway to College is hosted at Mount Wachusett Community College in partnership with the Ralph C. Mahar Regional School District.  On March 25, MWCC will host one of several information sessions for prospective Gateway students interested in enrolling for the fall semester.  For more information, call 978-630-9248or go to mwcc.edu/access/gateway.
–          Deb Bibeau