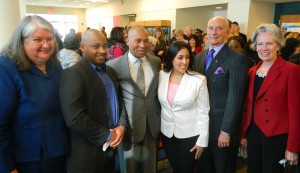 Governor Deval Patrick has announced nearly $1 million in grants to support life sciences related capital projects for Mount Wachusett Community College and Quinsigamond Community College to better respond to the region's growing need for skilled workers in biotechnology, biomedical engineering and pharmaceuticals. The Governor made the announcement at QCC on March 6.
"In order for Massachusetts to continue to create jobs and prosper, we must train our workers for the jobs of the 21st century global economy," said Governor Patrick. "Our innovation economy relies on a well-educated, well-skilled workforce, and these grants will expand opportunity and grow jobs in central Massachusetts."
MWCC was awarded a $500,000 grant to upgrade aging and outdated equipment and add new equipment that aligns with current industry standards for its core life sciences courses in biology, organic chemistry, inorganic chemistry, biochemistry, microbiology and plant science. These courses provide the basic foundation for MWCC'S existing biotechnology, natural resources and clinical laboratory science degree programs and three new proposed degree programs in quality and analytical technology, liberal arts and sciences biology and chemistry to be rolled out in fall 2014. The funding will make it possible for MWCC to substantially improve its curriculum to integrate more hands-on, real-world laboratory experiences and add an organic chemistry course, an equipment heavy foundational course for biological sciences and molecular biology studies. The grant will enable MWCC to fully upgrade its laboratory science equipment and to ensure employers have the skilled workforce they require for creating and retaining jobs in the life sciences.
"As Mount Wachusett Community College prepares to break ground this fall on a new science and technology building, the continued support of the Commonwealth, through this generous grant from the Massachusetts Life Sciences Center, could not be more timely and appreciated," said MWCC President Daniel M. Asquino. "This funding will enable us to provide cutting-edge equipment for our new laboratories, as well as much-needed upgrades to existing laboratories to enhance the academic experience for our students and ensure that employers have the skilled workforce they need for creating and retaining jobs in the STEM fields."
Student Jenna Bonci, who is preparing for a career in health care, also represented MWCC at the event.
"I believe that all students enrolled in life science courses and programs at the Mount will benefit from this updated equipment and from the commitment it represents to their academic success. With this grant, students will be able to transition to their future jobs with a better understanding of the ever-changing equipment and strategies within the life sciences," she said.
Earlier that day, the Bureau of Labor Statistics announced that Massachusetts added over 55,000 jobs in 2013, the largest number of jobs created in a single year in nearly 15 years.
Under Governor Patrick's leadership, Massachusetts has emerged as the global leader in life sciences. Through the Massachusetts Life Sciences Center (MLSC), Massachusetts is investing $1 billion over 10 years in the growth of the state's life sciences ecosystem. To date, the MLSC has awarded more than $330 million to support life sciences-related capital projects across the state, creating thousands of jobs and more than 1.3 million square feet of new education, research and manufacturing space.
"The life sciences sectors are now the fastest job producers in Massachusetts so a key strategy of the Life Sciences Center is to use our capital dollars to ensure that students all across the Commonwealth are prepared to compete successfully for these jobs," said Dr. Susan Windham-Bannister, Ph.D., President & CEO of the MLSC. "The projects at Quinsigamond Community College and Mount Wachusett Community College are great examples of our investments to achieve that objective. Community colleges, and the six high schools we are recognizing today, play major roles in training the next generation of our state's life sciences workforce, and they ensure that training for innovation economy jobs is inclusive and available all across the state. Our grants help ensure that these schools can provide students with first-rate training facilities."
"One reason our innovation economy is strong and growing is because of our state's strong higher education institutions," said Secretary Housing and Economic Development Greg Bialecki. "This funding will help ensure that these facilities are equipped with the tools and support they need to provide world-class education and training opportunities."
"Mount Wachusett Community College is uniquely poised to innovate in the life sciences sector because it is a top public educational institution," Senator Stephen M. Brewer. "I am honored to support this grant, and to represent the Mount Wachusett community in the Senate."
"This funding comes at a perfect time for Mount Wachusett Community College, as they begin making major renovations to their science facilities in the coming months," said Senator Jennifer L. Flanagan. "Many thanks to the Massachusetts Life Sciences Center; the Mount, as they always do, will do great things with this support."
"Mount Wachusett Community College is an important part of our community and it is wonderful to see them have the opportunity to continue to grow," said Representative Jonathan D. Zlotnik. "Many thanks to the Massachusetts Life Science Center for their support of the new upgrades for MWCC that will benefit students and educators for many years to come."