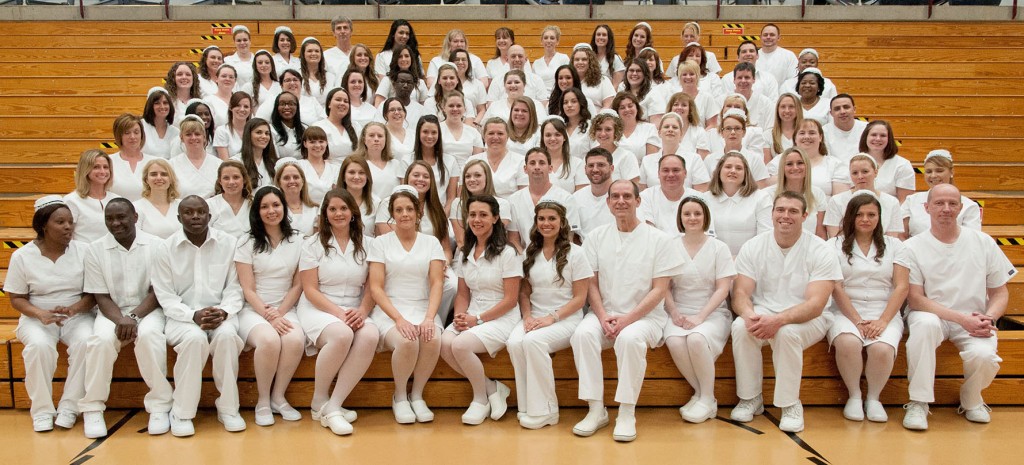 The academic achievements of MWCC's 41st associate degree nursing graduating class were celebrated during a traditional pinning ceremony held May 22 in the Fitness and Wellness Center.
The graduating class was comprised of students enrolled in the day and evening programs and included LPN's who returned to continue their education through the college's new Bridge to Nursing program.
MWCC President Daniel M. Asquino congratulated the students on their success completing one of the college's most rigorous academic programs. He noted that the care and compassion of nurses bring tremendous comfort to patients who are often at their lowest moment and in pain. "You truly can make a difference in their healing and their lives."
Eileen Costello, dean of the School of Health Sciences and Community Service Programs, also welcomed the graduates and their families. Cindy Andrews, Director of Nursing and Assistant Vice President of Seven Hills Pediatric Center, delivered the keynote address. As part of their clinical experience, the students receive training at Seven Hills, and many are hired by the long-term care center for children with severe disabilities. Three employees of the center were among the graduates.
"Mount Wachusett nurses have just been a godsend to us," she said. "They are so well trained." Andrews encouraged the graduates to continue on with their education and always advocate for their patients. "They're relying on you to be their voice."
Dressed in traditional nurse uniforms, the students were welcomed into the profession by having the program's nursing pin fastened to their lapels by a family member, friend, or an alumnus of the program, or a faculty member, to the cheers of family and friends. The pin symbolizes where the nurses completed their studies to become an RN and distinguishes them from other health care professionals. The eight-star MWCC pin is imprinted with the words "Service to Humanity and the World."
As part of the ceremony, the students also took a nursing pledge that dates back to Florence Nightingale, who distinguished herself during the Crimean War by coming to the aid of sick and woundedsoldiers.