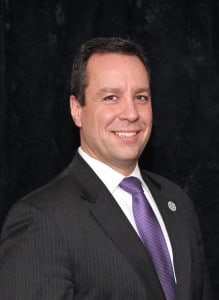 GARDNER — Mayor Mark Hawke has been named Mount Wachusett Community College's 2016 Alumnus of the Year. He will be recognized during the college's 51st Commencement on May 18.
"We are extremely proud to honor Gardner Mayor Mark Hawke as our 2016 Alumnus of the Year," said President Daniel M. Asquino. "Like many of our students, Mayor Hawke discovered his potential while attending Mount Wachusett Com­munity College, and then followed that path to achieve success both academically and professionally. Moreover, he has consistently demonstrated his commitment to public service, to Mount Wachusett Community College, and to our students."
Created in 1989, the award recognizes a Mount Wachusett Com­munity College graduate who has exhibited exceptional career leadership, service to community and commitment to the college.
"I am deeply indebted to MWCC," Hawke said. "While I didn't know it then, the Mount and its faculty put me on the track to success. As a graduate, I have firsthand knowledge of the college's positive impact on students. As mayor, I have seen the transformative influence the college has had on our community. Gardner is truly fortunate to be home to MWCC."
The son of Nancy Hawke and the late state Rep. Robert Hawke, the mayor is the youngest of five siblings. He attended Gard­ner public schools and graduated from Gardner High School as a three-sport letterman. After earn­ing his associate de­gree in general studies from Mount Wachusett, he went on to earn a bachelor's degree in political science from the University of Massachusetts Amherst, and then a master's degree in business administration from Anna Maria College.
Since being sworn into office in January 2008, he has worked to bring Gardner into a new age through investments in the city's infrastructure, economic development, playgrounds and other facilities. Under his leadership, Gardner became one of the first communities to sign on to the Baker administration's  Com­munity Compact.
Prior to his election, Hawke served as Gardner's grants administrator for more than six years. He previously worked in the private sector as a business analyst for a wireless communications company, as an operations manager for a transportation company, and as a logistics analyst for a waste management company.
Hawke currently serves as president of the Massachusetts Mayors' Association and on the board of directors for the Massachusetts Municipal Ass­ociation.
Among his community activities, he serves on the board of incorporators of Heywood Hos­pital; the board of directors of Gardner's downtown association, Square Two; and the GFA Federal Credit Union board of directors. Previously, he has served as president of Gardner Square Two; on the board of directors of the Greater Gardner Chamber of Commerce, and on Mount Wachusett's board of trustees.
He is also an active member of the Acadien Social Club of Gardner; the Napoleon Club of Gardner; the Polish American Citizens Club of Gardner; the Gardner Museum; the Acadien Club Hockey League; City League Softball; and an honorary member of the Gardner Rotary Club.
He and his wife, Shelly, live in Gardner with their son, J