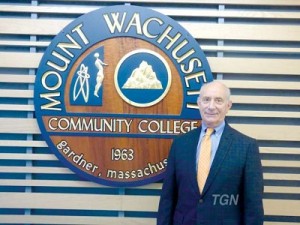 GARDNER It was quite a series of events that brought Mount Wa­chu­sett Community Col­­lege President Daniel M. Asquino to where he is now — 75 years old and retiring from a job he's had for almost 30 years.
"Like everything else, it was kind of an accident," he said.
He'll wrap up his time at the Mount in January as the longest-tenured public higher education president in the state, serving since 1987.
But before all that stability, he was told by his high school guidance counselors he wasn't "college material," was a self-described "pretty rough kid," and wanted to be a police officer but didn't have good enough eyesight to pass the exam.
At the time that he was accepted into college to pursue his undergraduate degree, he was leaving the Navy after four years in 1965 and already had a family with two children, with a third child on the way.
Without much money and a broken-down old car, his family spent about a year living back home in New Bedford with his parents while he was attending college nearby.
After that, Asquino said, his family spent time living in subsidized housing and was on welfare and food stamps.
Ultimately, it was education that provided him a path forward from those growing pains of early adulthood.
A father of four and grandfather of nine, Asquino and his wife have a home in Bourne and also live in Cranston, Rhode Island, to take care of her elderly father. Asquino grew up in New Bedford with two brothers and a sister.
His father was a bricklayer and his mother a homemaker.
He said he had "great parents, but we were poor."
He wasn't always the best-behaved child, and he recalled that he would get into fights sometimes in high school while taking part in the Reserve Officers' Training Corps, a program of the armed forces.
He credits partaking in a local Boys Club — before the organization name changed to Boys & Girls Club — as being a positive outlet for him, learning physical activities such as judo, weightlifting and boxing.
Never being one that was interested in school, Asquino worked in construction for a few years before joining the Navy in 1961.
He was stationed at various posts in the U.S. over his four years in service, including Chicago, Maryland and Norfolk, Virginia.
A main role of his was working as a court-martial reporter.
While in the Navy, he started taking college courses in general requirements such as English and mathematics.
Thanks to the GI Bill, he also had financial support for college thereafter.
"I didn't think it was fun at the time, but it was probably the best thing that ever happened to me," Asquino said about his military service.
He would study political science, economics and philosophy during his time as an undergraduate at Southeastern Massachusetts University, now UMass Dartmouth.
After that, he attended graduate school at UMass Amherst and earned a doctorate degree in Public Administration and Political Science.
While he was working on his doctorate, he interned at the Massachusetts Board of Regional Community Colleges, saying, "Really, the rest is history."
In 1971, he officially began his career working at the board as an assistant to the president, and subsequently moved on to positions at Bristol Community College and Cape Cod Community College.
He applied at Cape Cod to become president as well as at Mount Wachusett Community College, before he was offered and accepted the position as Mount Wachusett president in 1987, replacing Arthur Haley who had been with the college since its inception in 1963.
"That was 30 years ago. I had no intention of staying this long. But time goes by," he said.
His time at the Mount has seen substantial expansion, with an enrollment of over 12,000 and the establishment of satellite campuses in Leominster, Fitchburg and Devens.
Connecting students to local employers and community service opportunities has been a major point of emphasis throughout.
With only about four months to go, Asquino said "I have no plans" for what he'll do during retirement and indeed, that would seem to be the point of calling it quits — having the space to relax after a long history of work.
"I stayed because I love it. There's always something to do. They are great communities," he said. "I've been lucky. I've been fortunate."
Story & photo by Andrew Mansfield, The Gardner News, Sept 16, 2016