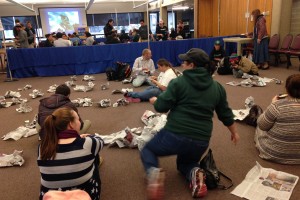 Students representing the world's poorest shared meager bowls of rice and water, while a much smaller group, representing the world's wealthiest, dined on a full meal during a hunger banquet hosted Nov. 19 by Mount Wachusett Community College's Center for Civic Learning and Community Engagement and Green Street Café.
The event aims to raise awareness of world poverty and economic inequality by providing students with varying meals and levels of service, based on the distribution of income and on chance – very often the sole determinant of one's economic standing. Participants representing the 20 percent of high-income individuals were served a pasta entre with vegetables, rolls and soda. Middle-income participants, who comprise 30 percent of the population, served themselves rice and beans. Finally, students portraying the 50 percent of low-income individuals sat on the floor and received one ladle of rice, no silverware and a cup of water.
While students ate, faculty and staff speakers highlighted a range of statistics on world poverty and hunger. An estimated 2.5 billion people live in poverty, while 870 million suffer from chronic hunger.
"The issue is not a shortage of food," explained Assistant Professor of Philosophy Daniel Soucy. "There is plenty of food to feed the world now." War, economic inequality, and place of birth are among the factors that determine one's station in life, he said.
Following the banquet, students from each income group reflected on the experience.
"The least we can do is feed people," a young woman from the middle bracket called out. "I feel it's the least we can do to make this world just a little bit better."
Tickets to the banquet were sold for $1 and the money raised was donated to MWCC's Students Supporting our Students (SOS) office food assistance program to help students in need.
The event is incorporated into a national initiative on economic inequality spearheaded by the American Association of State Colleges and Universities. MWCC and Keene State College are co-leading more than 30 participating colleges and universities in the three-year initiative.
"It's active learning," said Shelley Errington Nicholson, MWCC Director of Community Learning. "I don't think you can make this point in any better way than to do something like this."