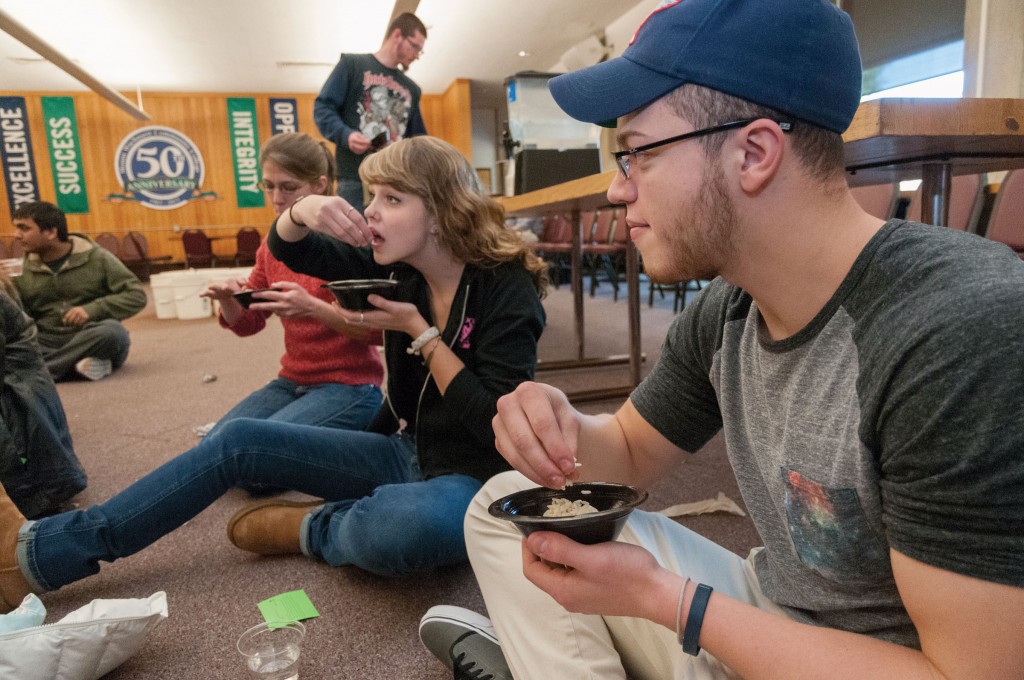 A hunger banquet hosted by the Center for Civic Learning and Community Engagement raised awareness of world poverty and affirmed Mount Wachusett Community College's status as a lead institution in an American Association of State Colleges and Universities initiative. MWCC and Keene State College announced Nov. 18 that they will co-lead 31 participating institutions in a three-year initiative on economic inequality.
The initiative calls for institutions to develop curricula and hands-on learning opportunities that will encourage students to confront the complex causes of economic inequality. MWCC's hunger banquet mirrored those run by Oxfam International and provided students varying meals and levels of service, based on the distribution of income and on chance – very often the sole determinant of one's economic standing.
"This is a small glimpse of some of the economic inequality worldwide," said Shelley Errington Nicholson, director of community learning in the Center, while introducing the Nov. 20 event. Nicholson also described hunger as "a problem rooted in injustice," and one that is solvable, though doing so is no easy task.
MWCC participants representing the 20 percent of high-income individuals were served a pasta entre with vegetables and rolls, though much of the food went uneaten. Middle-income participants, who comprise 30 percent of the population, served themselves rice and beans. Finally, students portraying the 50 percent of low-income individuals sat on the floor and received one ladle of rice, no silverware and a cup of water.
While students ate, faculty and staff speakers highlighted a range of statistics on world poverty and hunger, as well as avenues toward the suppression of both epidemics, including Oxfam and Feeding America. An estimated 2.5 billion people live in poverty, while 870 million suffer from chronic hunger.
Each ticket contained a persona of an individual helped by Oxfam, and several participants read their descriptions to the group. The Center donated all funds to the Students Supporting our Students (SOS) Office to assist MWCC students in need.
Students also engaged in a philosophical discussion on hunger led by Assistant Professor of Philosophy and Center Chair Daniel Soucy.
"We hope not to leave you in a state of despair, but to empower you by showing what we all can do," said Associate Professor of Psychology and Sociology Julia Capozzi, who showed two clips from The Hunger Games to emphasize the growing power of the top one percent of income earners. "We try to pretend we're all in the middle class and that poverty isn't a problem, but [this situation] is not just a recession."
Following the banquet, students from each income group reflected on the experience.
"I felt bad for the lower class because I had more food than them," said Ruth Robertson, a dental hygiene major and a member of the high-income group. "I wanted to give them my food. That's why I didn't eat much of it."
"I was happy with the middle class, and I would have felt guilty if I got in the higher class," said Rebekkah Dietz, a liberal arts major, who said she was happy to receive a sufficient amount of food without wasting any.
"You feel like a leper, really," said Stephanie Needle, a human services major and a member of the low-income group. "This is a fair depiction of how we treat people living in poverty in this country and why not a lot of people want to admit where they're at."
– Cameron Woodcock