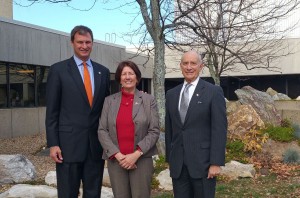 Mount Wachusett Community College has partnered with the Worcester County Sheriff's Office to bring education and workforce training to inmates. It's an effort to give inmates direction — well away from jail — once they're out."Providing post-secondary correctional education as well as workforce training is the most effective path to reducing recidivism and keeping ex-offenders from returning to prison," Worcester County Sheriff Lew Evangelidis said in a statement Thursday.
He said that educational preparation is second only to addressing substance abuse during incarceration in preparing inmates for a productive life.
Using a state grant, Mount Wachusett Community College (MWCC) and the sheriff's office will offer a program aimed at getting prisoners ready for college or for jobs, including jobs in advanced manufacturing. The Bridges to College program at the Worcester County Jail and House of Correction program will begin in January, the college announced.
The $79,000 grant that will fund the program is from the Massachusetts Department of Higher Education, and expands on existing programs offered by the sheriff's office. Those include adult basic education, life skills and English as a second language. The initative also builds on advanced manufacturing industrial readiness training programs offered at MWCC.
Thursday's statement from MWCC said that manufacturing industrial readiness training embeds academic remediation instruction in reading, writing and math. Inmates who are from six months to two-and-a-half years from release, and who have a high school credential, are eligible. The courses will be held at the correctional facility, and is open to as many as 100 inmates.
"The power of education to transform lives cannot be underestimated," MWCC President Daniel M. Asquino. "This program offers an opportunity for new beginnings."
Carol McDonald, Worcester Business Journal, Nov. 6, 2015