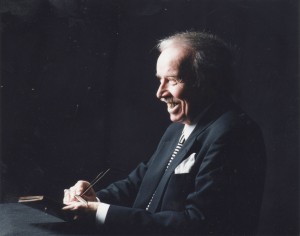 As a part of Mount Wachusett Community College's 50th anniversary celebration, an exhibition of artwork by James D. Murphy, the first chair of the college's Board of Trustees, will be on display from June 3 through June 7 in the East Wing Gallery of the Raymond LaFontaine Fine Arts Center.
The exhibit will include works in watercolor, oil and pen and ink created throughout his life and also features never before seen watercolors. A reception fundraiser will take place on Thursday, June 6 and will feature live music, hors d'oeuvres and a raffle of an original framed watercolor donated by the Murphy family to raise money toward the James D. Murphy Trustee Scholarship administered through the MWCC Foundation.
"My father would have been deeply honored to know that the Trustee Scholarship will be named after him at the college he served faithfully and loved. Our goal, as his family, is to see that they scholarship is endowed so his legacy will continue," said MWCC Professor Sheila Murphy.
Murphy graduated from the Vesper George School of Art and the School of the Worcester Art Museum. He was an eclectic artist who worked with watercolors, oils, pen and ink, charcoal, and pastels. He was also a skilled cartoonist and caricaturist and was a member of the prestigious National Cartoonists Society.
Suggested donations to the reception are $25, $50 and $100 to go toward the scholarship. Raffle tickets are $5. For tickets or more information, contact Lois Cox 978-630-9101 or Sheila Murphy 978-630-9331.