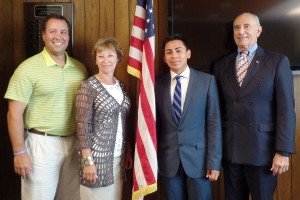 Mount Wachusett Community College student Jasson Alvarado Gomez is stepping in to two key leadership positions for the upcoming academic year.
On Thursday, Aug. 11, the Media Arts & Technology major was appointed to the college's Board of Trustees, following a spring election by his peers. This fall, the Worcester resident will be appointed to the Massachusetts Board of Higher Education as a full voting member representing all students attending the state's 29 colleges and universities.
"Jasson is making a tremendous difference in the lives of students and residents of our area through his active participation on campus and in the community," said MWCC President Daniel M. Asquino. "Being appointed to these two key positions is a wonderful achievement for him and I'm certain he will serve MWCC, the Commonwealth of Massachusetts, and the students, quite admirably."
An aspiring filmmaker, Alvarado Gomez is a 2015 graduate of MWCC's Gateway to College dual enrollment program in partnership with the Ralph C. Mahar Regional High School, and previously attended Burncoat High School in Worcester.
At MWCC, he has served on the Student Government Association, as president of the ALANA Club, and on the Campus Activities Team for Students and SAGA organizations. He has served as a student ambassador and a volunteer for the United Way Day of Caring and the SGA annual food drive, and is a recipient of the Gateway Community Service Award.
While at Burncoat, Alvarado Gomez was a member of the National Honor Society, the Foreign Language Honor Society, the Dreamers Club and the JROTC, and is a recipient of the JROTC Outstanding Cadet Award and Community Service Award. He previously volunteered with the YMCA in Sutton and the Boys & Girls Club of Blackstone Valley.
Alvarado Gomez, who will earn an associate degree in May 2017, said he is grateful for the support and encouragement he received from MWCC faculty and staff, and believes the experience and insight he has gained serving on the Student Government Association has helped prepare him to be a voice for all students.
"This is an opportunity for me to be a better leader, and an opportunity to show what I can do for the community. I'm going to do the best that I can so I can leave something good behind for the students."